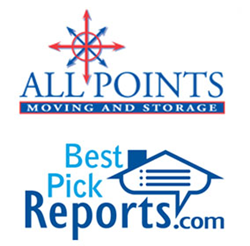 Houston, TX (PRWEB) September 25, 2014
All Points Moving and Storage has been certified as a 2014 Best Pick, a distinction given by independent research firm EBSCO Research. Only top-rated companies that qualify in EBSCO Research's rigorous research process can earn "Best Pick" status. All Points Moving & Storage excelled throughout this research process, boasting an overall A-rating based on over 100 candid telephone interviews with Houston area homeowners. Furthermore, EBSCO Research found All Points Moving & Storage to be in state compliance regarding proper insurance and trade licensing.
Regarding the designation, company owner Paul Moore stated, "Becoming a great moving company is something we've been working on since our inception in 1984 and we are pleased to be recognized by EBSCO for our accomplishments as household movers and office and industrial relocation experts."
All Points Moving & Storage specializes in household and commercial moving on a local, regional, and national scale. The company's services include packing, unpacking, and crating. All Points Moving & Storage also sells packing materials, provides storage facilities, and offers home staging solutions. All Points Moving & Storage is ProMover certified by the American Moving & Storage Association (AMSA), and the company's staff includes an AMSA Certified Moving Consultant. The company has been named a Pinnacle Mover by the Southwest Movers Association. All Points Moving & Storage is an authorized agent of Atlas Van Lines, which enables the company to coordinate nationwide and international moves. Learn more at http://allpointsmoving.com.
"We are confident in naming All Points Moving & Storage a 2014 Best Pick. Our extensive research shows that they are a top-rated moving company," stated EBSCO Research GM, Greg Robb.
EBSCO Research is a division of EBSCO Industries Inc. The independent research firm has been documenting the performance of home service companies since 1997. The research results, insight, and tips can also be found at http://www.BestPickReports.com, where homeowners can also request a free hardcopy of Best Pick Reports.