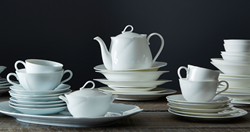 Stunning whiteware that sets the stage for the culinary creations of the home and professional chef
New York, NY (PRWEB) September 18, 2014
Noritake is excited to announce the launch of Culinary White on NoritakeChina.com. Coty White, Ensemble White, Suimon, Cher Blanc, and the Marc Newson Collection are patterns now available at NoritakeChina.com. Designed for use in the home or for food service, Culinary White features 5 pure white patterns, each with distinctive features in their body and shape.
"Noritake has been gracing dining tables around the world for over 100 years. It is only natural that the same high quality dinnerware would translate into stunning whiteware that sets the stage for the culinary creations of the home and professional chef," says Peter Goldberger, Executive Vice President.
Coty White is unpretentious and elegant. The soft pattern denotes the bursting forth of a brand new leaf in early spring. The gentle new leaves on this white porcelain body exhibit a harmony with nature—an excellent choice for a garden-style restaurant or any outdoor catering or home setting.
Ensemble White is a beautiful white bone china pattern with wisps of waves delicately arranged on each piece, and is a great transitional pattern that goes from breakfast to brunch, luncheon to tea time, cocktails to dining. This durable, yet elegant pattern is made for everyday use and is a great choice to upgrade your catering events, and perfect for an updated café or bistro ambience.
Suimon is the perfect pattern to stimulate conversation around the dinner table. It is made of exquisite white bone china and brings a modern and sophisticated style to the dining table; perfect for any event, in any home. Professionals can enhance a restaurant or catered event with this uniquely styled tableware.
Cher Blanc is a light, thin, highly translucent, fine porcelain, with unprecedented durability. Bright, pure white with a high-gloss glaze, the pattern features a subtle embossed latticework motif on the rim accented with a scroll and floral border. Perfect for all occasions, Cher Blanc is the ultimate choice for dressing up or dressing down your table setting.
The Marc Newson collection is a stunning dining collection featuring a sleek retro look and a fluid design ethic. Up until recently only those privileged enough to travel in the Qantas First Class cabin were able to enjoy this luxurious range, which is also commercial quality tough, as well as dishwasher and microwave safe.
Future plans for Noritake include a new set of web-exclusive lace-inspired patterns, further expansions to the popular Colorwave Collection, a "view at home" sample program, and more.