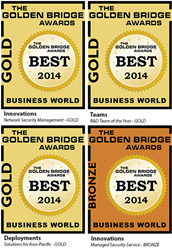 Commerce, MI (PRWEB) September 19, 2014
Leading MSSP Nuspire Networks has earned three Gold, one Bronze and the Grand Pillar statue in the Golden Bridge Awards.

Gold: Teams - R&D Team of the Year
Gold: Deployments- Solutions for Asia-Pacific
Gold: Innovations – Network Security Management
Bronze: Innovations – Managed Security Service
Grand Pillar Award: Awarded to top performing companies at the Golden Bridge Awards
The coveted annual Golden Bridge Awards program encompasses the world's best in organizational performance, innovations, products and services, executives and management teams, women in business and the professions, innovations, case studies, product management, public relations and marketing campaigns, and customer satisfaction programs from every major industry in the world. Organizations from all over the world are eligible to submit nominations including public and private, for-profit and non-profit, largest to smallest and new start-ups.
Nuspire stands above the competition with an encompassing model of their managed security platform, including cutting-edge open platform hardware, proprietary custom designed software portal using the latest HTML5 technologies – adjusted daily by in-house development team, top tier security experts, world-class Security Operations Center, and deployment capabilities covering the farthest reaches of the globe.
More than 40 judges from a broad spectrum of industry voices from around the world participated and their average scores determined the 2014 Golden Bridge Business Awards winners. The winners were honored during the awards dinner and presentation on September 30, 2014 in San Francisco attended by the finalists, industry leaders, and judges.
"It's an honor to be named a winner in multiple categories at the Golden Bridge Awards for both esteemed industry and peer recognition awards," said Kelli Pines, Director of Marketing at Nuspire. "These nominations are a testament to Nuspire's commitment to creating efficient, affordable, customizable solutions for varying security postures. Nuspire's core focus is to provide a service for security management, while educating customers on ways to grow their infrastructures with an emphasis on cost effectiveness and safety. We are grateful to be recognized for our best-in-class expertise through the Golden Bridge Awards."
About Nuspire:
Nuspire Networks is a leading Managed Security Solutions Provider dedicated to designing and providing state-of-the-science network management and security solutions including:

Device management and monitoring
Vulnerability scanning
Intrusion detection and prevention
Integration, support and executive service
This culminating solution provides a powerful system and unique tools delivered to the client as an all-inclusive service, leaving the management of network security to us.
About the Golden Bridge Awards
SVUS Awards organized by Silicon Valley Communications are conferred in 10 annual award programs: CEO World Awards, Consumer World Awards, Customer Sales and Service World Awards, Golden Bridge Business Awards, Globe Fastest Growing Private Companies Awards, Info Security's Global Excellence Awards, Network Products Guide's Hot Companies and Best Products Awards, Pillar Employee Recognition World Awards, PR World Awards, and Women World Awards.