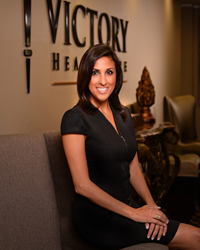 Houston, Texas (PRWEB) September 17, 2014
Victory Healthcare announced today Nillie Djassemi as the new vice president of finance operations at its corporate office. In this role, Djassemi will oversee the financial operations performance of Victory's medical centers throughout Texas.
"Nillie has a proven track record as a savvy financial planner and adviser in healthcare, and we are glad to welcome her to the Victory family," said Michael Urbach, president and chief operating officer of Victory Healthcare.
Djassemi comes to Victory from Symbion Healthcare in Nashville, Tennessee, where she held the position of director of corporate accounting before advancing to serve as assistant vice president of financial operations for the hospital division. Prior to working at Symbion Healthcare, Djassemi was a senior auditor of assurance and advisory business services at Ernst & Young.
"Victory stands out in the healthcare field and has made a reputation for itself of going above and beyond for its patients and staff," explained Djassemi. "I'm thrilled for the opportunity to provide my own contributions to this great company."
Djassemi graduated cum laude with a degree in accounting from Kentucky's Murray State University in 2006, and then went on to become a certified public account and member of both the American Institute of Certified Public Accountants and the Tennessee Society of Certified Public Accountants.
About Victory Healthcare
Based in The Woodlands, Texas, privately owned Victory Healthcare is creating the standard in surgical care through its growing network of specialized surgical hospitals. Our surgeons are the most highly trained and respected physicians in their fields, committed to providing revolutionary technology and minimally invasive treatment techniques. We create a first class experience for our patients in our state-of-the-art facilities that include concierge services, a one-to-one patient care, and personalized service in an environment designed to promote comfort and healing. Victory Healthcare partners with physicians to create an exceptional surgical experience for our patients, their families, and our surgeons. Learn more about the Victory difference – a dedication to healing through education, technology and first-class care - at victory-healthcare.com or fol-low us on Twitter @VictoryCor.
###