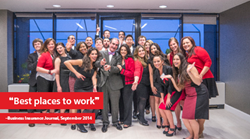 "To be recognized by our employees is a great measuring stick for success. First, we set out to create a family business. Then, we created a family within the business. This award is a testament to that vision." -Vice President, Michael Sahouri
(McLean, VA –
Sept. 3) (PRWEB) September 18, 2014 -- Every year, Business Insurance and the Best Companies Group collaborate to elect the country's most highly coveted Insurance employers. This year, Sahouri Insurance is a recipient of the award. The 'Best Places to Work Award' recognizes firms with working environments that create a collaborative, tight-knit culture for their employees.
This nationwide award is open to all publicly and privately held insurance companies with at least 25 employees. All nominees were involved in a two-step evaluation process. To honor the awarded companies, an in-depth report will be published on Business Insurance Journal's September issue.
The first stage of the evaluation process involved of a 'confidential employee engagement and satisfaction survey' which provides a basic overview of a company's workplace environment and culture. The second stage consisted of questions addressing benefit programs, policies and practices.
Business Insurance has been a leading journal in the industry for 45 years. The Journal issues many industry awards including Best Places to Work in Insurance, the Innovation Awards, Top 40 Under 40, and Risky Manager of the Year Award. Sahouri Insurance has taken home two of these awards within the past two months.
The Best Companies Group is an independent research firm that manages industry programs in the United States and Canada. The firm conducted the surveys and evaluated additional data submitted by applicants for this award. The panel of professionals who elected the winners stated that "each company has demonstrated a minimum standard of excellence to earn a spot on the list of Best Place to Work in Insurance."
In response to this achievement, Michael Sahouri, Vice President of Business Operations at Sahouri Insurance said: "First and foremost, to be recognized by our own employees is a great measuring stick for our success. We first set out to create a family business. Then we set out to create a family within the business. This award is a testament to that vision."
Sahouri Insurance & Financial is a private, family owned insurance broker based in McLean, Virginia. Established in 1970, Sahouri's services include insurance for private clients, employee benefits, commercial lines, real estate, as well as life and disability. Sahouri has been brokering insurance internationally and domestically with success for 45 years.
For more information, you may contact the marketing department (703)-882-0500 or at marketingintern(at)sahouri(dot)com.
Follows us on Twitter: http://ow.ly/BwCGB
Like us on Facebook: http://ow.ly/BwCMk
Connect with us on LinkedIn: http://ow.ly/BwCQ1