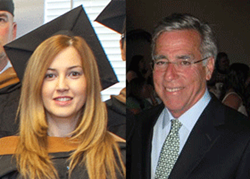 "A brand new facility in a centralized location would create more regional attention..."
Shreveport, LA (PRWEB) September 18, 2014
Several students of Centenary College's Frost School of Business Executive MBA program are seeing the fruits of their labor bloom in an exciting multi-million dollar community venture.
Through Centenary class projects and serendipitous encounters, a state-of-the-art regional YMCA fitness and environmental education center is in the works in cooperation with YMCA of Northwest Louisiana; BHP Billiton, a global resource company; The Nature Conservancy; The Red River Waterway District; nearby private landowners; and other philanthropic-minded corporate and individual citizens of Northwest Louisiana.
"During Doug Fryett's Strategy and Policy course, Archer Frierson, Claire Williams, and I did a study on the YMCA's capital campaign to renovate their Broadmoor Branch," said Larry Russo, a 2013 graduate of the MBA program and General Counsel and Vice President of Kinsey Interests, Inc. "In the course of it, we came away from the capital campaign thinking that they really shouldn't renovate the Broadmoor, but relocate it. A brand new facility in a centralized location would create more regional attention which would help raise the capital for the project."
Later, under the direction of Dr. Betsy Rankin, Dr. Harold Christensen, Dr. David Hoaas, Dr. Barbara Davis, and Dean Chris Martin, Russo and classmate Cigdem Yildirim worked together on their capstone project, "Cooperative Endeavor by YMCA of Northwest Louisiana, BHP Billiton and The Nature Conservancy to Establish a Regional Fitness and Environmental Education Center." Their project, a class assignment designed to allow students to apply new skills learned from the program, outlined the steps necessary for the YMCA to abandon its plan to expand and renovate the Broadmoor Branch and redirect its efforts to raising funds to construct a facility at Clyde Fant Parkway and Preston Road.
"We were interested in that area because it is an athletic destination," said Russo. "The cyclists love to ride on Clyde Fant Parkway, the runners love to run by the river—it's got a lot of synergy."
Since the completion of their capstone project, Russo and his colleagues have seen the proposal translated into a reality. In July, BHP Billiton gave a $10.7 million gift to the YMCA, and later in August, the YMCA purchase 14 acres of land on the Clyde Fant Parkway and Preston Road intersection to begin groundbreaking on the new "Red River Fitness and Natural Sciences Campus."
"We are excited to be partnering with not just only the leadership and staff of the YMCA, but also children and families throughout northwest Louisiana as we bring a world-class campus and facilities to this community," said BHP Billiton's Petroleum & Potash President Tim Cutt in a BHP Billiton press release. "The YMCA's vision and plans for this location will have a multi-parish impact for generations to come. We at BHP Billiton are committed to enhancing the lives of our neighbors in the communities where we operate, and for this reason, we are proud to announce our support today."
YMCA Chairman Greg Morrison is pleased with the new project and sees opportunity for improvement in the lives of members of the Shreveport/Bossier City community.
"We have a lot of health and education problems here. Louisiana was recently ranked No. 1 in the nation, and a little sidebar to that, Shreveport was No. 1. We truly have a problem here," said Morrison in a Shreveport Times article. "The responsibility of improving this community lies on all of us, not just the YMCA. We can make this better. We can improve the health and education of our community. The new YMCA is going to help us do that."
Although delighted, Russo never dreamed he and Yildirim's capstone project would bring about such a large endeavor in the community. Their project grew much bigger and faster than he ever expected.
"Serving as the faculty mentor on the YMCA project by Larry and Cigdem was exciting," said Rankin. "The idea of the new campus for the YMCA that encompassed so many extras was both ambitious and daunting. Larry's connections to the YMCA provided this opportunity for our students to build a business plan that was taken back to the YMCA so they could better assess the feasibility of such a behemoth project. What a bonus for our EMBA program and, on a much larger scale, for the Shreveport community!"
The Executive MBA program aims to help bright, ambitious individuals who have at least five years of professional experience achieve greater success in their management careers. The program stresses key skills and critical business concepts that managers need to be effective in their current jobs and in the future. Frost faculty helps students develop the confidence and insight required for accepting greater responsibility so they can advance faster and rise higher in their careers.
"The program is truly unique in this part of the country," said Rankin. "The entrepreneurial or intrapreneurial capstone projects provide the students the chance to use what they have learned in their classes to create new businesses or make innovating changes to existing businesses. These original projects, therefore, not only benefit our students, they also often have an impact on the local community. The quality of the projects attests to the high quality of our program as well as the high quality of students attracted to our program."