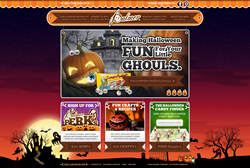 Reading, PA (PRWEB) September 18, 2014
R.M. Palmer Company announces the launch of a Halloween website featuring new products, recipes and crafts to make Halloween fun for little ghouls everywhere.
One of the top 80 confectioners in the world, Palmer's website delivers "More Boo for Your Buck" to value-conscious, time-strapped families. Products making their debut for the 2014 Halloween season include Caramel Apple Cups, chocolaty cups with a rich caramel apple-flavored center; and Eye Scream Sandwitches, crunchy, chocolaty candies layered with creamy white filling and decorated with a Palmer "Creepy Peeper." Both new treats are available in 5 oz., 9oz. and 16oz. bags, as well as in bulk cartons.
The website also features recipes for hauntingly good treats featuring new and classic Palmer Halloween candies. New recipes for 2014 include Mini Eye Scream Cakes, which make perfect individual desserts or treats for Halloween parties, as well as a delicious fall treat, Caramel Apple Dip. In addition, visitors will find instructions for making colorful party favors and decorations to light up their Halloween celebrations, including a SPOOKtacular Candy Dish carved from a craft pumpkin and Ghoulish Goodies Party Favors featuring bats, mummies and ghosts. Following Palmer's tradition of making holidays fun and affordable for families on a budget, every recipe and craft on the website can be made for less than $10.
ABOUT RM PALMER COMPANY
R.M. Palmer Company has been crafting fun, seasonal chocolate novelties since 1948. Today, the R.M. Palmer Company is the 75th largest confectioner in the world, with more than $165 million in annual sales and is the 21st largest confectioner in North America (according to candyindustry.com). From their headquarters in West Reading, PA, Palmer's 850 dedicated employees design, produce, package and ship more than 500 unique items to nearly 100,000 retail locations in North America - making Palmer one of America's largest and most innovative confectioners. For more information about R.M. Palmer Company, visit http://www.rmpalmer.com.