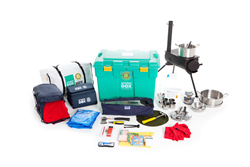 Sarasota, FL (PRWEB) September 18, 2014
September is National Preparedness Month and international disaster relief organization, ShelterBox, is encouraging families to focus on emergency preparedness by making a plan, staying informed, and preparing an emergency supply kit.
The organization provides humanitarian aid—emergency shelter and other supplies, such as water filters, stoves, and blankets, among other tools—to help families rebuild their lives after losing their homes and possessions following a natural disaster or other crisis.
When a disaster occurs in the United States, local government and relief agencies are available to help, but they may not be able to reach survivors immediately. Being prepared—knowing how to respond to a disaster, whether hurricane, tornado, flood, earthquake or other crisis, and being self-sufficient by preparing a kit (shelter, first aid, food, water, and other items) is crucial.
"The best way to prepare is to make a plan now and stay informed," said Bill Decker, a ShelterBox response team member. "When ShelterBox responds to disasters within the United States, we often work with reputable organizations and agencies such as FEMA (http://www.fema.gov). FEMA provides a wealth of resources, including lists of recommended items for an emergency supply kit and other information on how to plan and prepare to protect your family, property and community."
ShelterBox continuously monitors natural disasters and humanitarian crises occurring around the globe and prepares and prepositions aid months in advance in strategic locations, which results in a rapid disaster response, allowing the organization to assist families in need as quickly as possible.
Highly trained ShelterBox response team members distribute aid on the ground, ensuring the aid is delivered directly to those who need it most. This month, ShelterBox hosted a training in Texas for response team candidates. The training included a combination of classroom modules and deployment simulations in the field, testing the knowledge and skills of the participants.
Response team members must be ready to head into a disaster zone at a moment's notice and deliver emergency aid to families who have lost everything. The course prepares them with the knowledge and tools they need to deliver aid safely and efficiently.
To learn more about the aid ShelterBox delivers, visit http://www.shelterboxusa.org/kit. For information about becoming a volunteer, go to http://www.shelterboxusa.org/beinvolved.
Since 2000, ShelterBox has provided shelter, warmth and dignity following more than 240 disasters in over 90 countries. ShelterBox's American affiliate, ShelterBox USA, is headquartered in Sarasota, Florida. Individual tax-deductible donations to ShelterBox USA can be made at http://www.shelterboxusa.org/donate or by calling 941-907-6036.