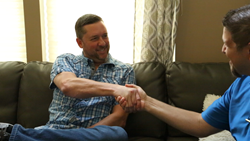 I was ecstatic when I heard I won the award. I want to keep this car for many years. -- Erik Hohenberger, U.S. Army veteran
Trevose, PA (PRWEB) September 18, 2014
Erik Hohenberger, a 44-year-old U.S. Army veteran, is the latest winner of CollisionMax's Metal of Honor Award, the company announced today. As a result, CollisionMax of Blackwood, NJ will repair his silver 2006 BMW 325i sedan free of charge.
A resident of Blackwood, Mr. Hohenberger enlisted a year after he graduated from high Sterling High School in Stratford, NJ, in 1989, during the lead up to the first Gulf War. "I had just received my certification as a heating and air conditioning technician, but Army service was a kind of tradition in my family, and I wanted to do something to help my country defend itself," he says.
Iraqi forces invaded Kuwait in August, 1990, and Hohenberg had orders to ship out for combat duty there. "But just before we were going to leave, my orders were changed. Instead, I was sent to South Korea, where the Army had a supply base shipping equipment to the Gulf. I was a little disappointed, but in the Army you follow orders."
In South Korea, Mr. Hohenberger was a mechanic assigned to repairing Army vehicles, from HUMVs and trucks to tanks. He also participated in training exercises along the North Korean border. After a year there, he was transferred to an army logistics base in Kansas, and was discharged from active duty in 1992 as a corporal. He continued to serve in the Army reserves until 1998.
"I loved the Army," he says. "It taught me leadership and responsibility, and it was like one big family."
When he enlisted, Mr. Hohenberger was following in his father's footsteps. "My father was born and raised in Munich, Germany, and lived through World War II there," he recounts. "He was a chef, and in the late 1940s he came to America. In the 1950s, he enlisted in the U.S. Army, because it was a way for him to become a U.S. citizen." Ironically, his father was assigned to the same base in Germany where Elvis Presley was serving his military duty. "He tells me stories about Elvis, but I don't really know if they're true," he says.
Now a mechanic with an equipment rental company in Runnemede, NJ, Mr. Hohenberger says he misses the Army. "I'm trying to get a civilian job at Fort Dix or McGuire Air Force base, just so I can be part of the military again." Meanwhile, he says his 17-year-old daughter, now a high school senior, has entered the Army Reserve's early enlistment program. "She wants a career in healthcare, and believes she'll get the training and support for education with the Army's help," he explains.
When Mr. Hohenberger bought his BMW – "my dream car" -- three years ago, it had 78,000 miles on it and was in bad shape, both mechanically and cosmetically. He says he's spent all of his spare cash fixing the engine, and making the power windows and sun roof work, "but the body is still in bad shape" with a dented hood, scrapes and dings, and chipped and bad paint all over.
"I was ecstatic when I heard I won the award," he says. "I drive past CollisionMax every day, back and forth to work. I want to keep this car for many years, and it's great to know that it's going to look as good as it drives."
Through its Metal of Honor Project, now in its second year, CollisionMax gives away auto body repairs to US military veterans, one per month for each of its locations in the Delaware Valley. The company selects the winners from nominations it received from the public on the project's web site, http://www.metalofhonorproject.com.
"The Metal of Honor Project is our way of saying thank you and honoring the men and women of our armed forces who put their lives on the line for all of us," said Jim Tornetta, CollisionMax president and CEO.
In New Jersey, CollisionMax operates shops in Blackwood, Cinnaminson, Glassboro, Marlton, Pennsauken, Sicklerville and Westmont. In Pennsylvania, it has repair centers in Oxford Valley, Warminster and two in Northeast Philadelphia (both on West Grant Avenue). For information about CollisionMax, please visit http://www.collisionmax.com.