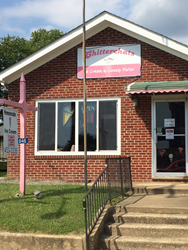 I'm looking forward to meeting new people and serving lots of ice cream and smiles.
Reedville, Va. (PRWEB) September 24, 2014
Jeff and Jennifer Bramblet moved to Reedville last year for a job and have grown to love the small, rural community by the Chesapeake Bay. But they wanted to get to know their neighbors better, so they decided to make their town a little sweeter by purchasing Chitterchats Ice Cream Parlor.
"We love the area and the way of life, and wanted a way to get more involved," Jennifer said of their decision to pursue entrepreneurship. "Owning a local business seemed a natural way to do that."
Prior to business ownership, Jennifer was a stay-at-home mom, but now she'll be working full-time in the shop. "I'm looking forward to meeting new people and serving lots of ice cream and smiles," she said. She also enjoys crafting with her kids and exploring the Northern Neck area of Virginia.
The Bramblets enlisted the help of Guidant Financial to fund their purchase of Chitterchats. With Guidant, they were able to invest their 401(k) funds into their new business without taking a taxable distribution — a process known as Rollovers for Business Start-ups.
"The [Guidant] process was very smooth, and we have had great help when needed," Jennifer said. "It's been a good experience."
Chitterchats has served the local community since 2004, and the Bramblets promise to uphold the tradition. They will continue to serve the premium, handmade ice cream the shop is known for, as well as milkshakes, sundaes, banana splits and other sweet treats. While the shop was closed during the winter in the past, the Bramblets will keep the shop open Friday – Sunday during the colder months, and they also plan to introduce birthday party packages and gift products to be sold year-round.
The Bramblets will take ownership of Chitterchats, located at 846 Main St., on Oct. 1. To learn more about the ice cream they serve or their new business hours, visit chitterchatsicecream.com, call 804-453-3335 or email Jennifer(at)chitterchatsicecream(dot)com.
###
About Chitterchats Ice Cream Parlor
Since 2004, Chitterchats Ice Cream Parlor has provided a place for the Reedville community to gather and exchange news, views and wisecracks in good humor. Their ice cream is handmade in Richmond, Virginia, using only the finest ingredients. Flavors include Almond Amaretto, Banana, Cake Batter, Coconut, Rum Raisin, Salted Caramel and many more fun combinations. Chitterchats also sells sundaes, milkshakes, malts, banana splits and floats. Pre-packaged pints, as well as ice cream to go, is also available. Learn more at chitterchatsicecream.com.
About Guidant Financial
Guidant Financial helps people create the life they want through innovative small business financing. They are the premier provider of rollovers for business start-ups (ROBS). Guidant's services allow people from all walks of life the freedom to purchase small businesses and franchises using their retirement funds without taking a taxable distribution or getting a loan, in addition to offering traditional funding options such as SBA loans, portfolio loans and unsecured credit. Visit Guidant on the Web at guidantfinancial.com.