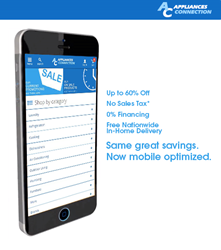 Appliances Connection has already revolutionized the desktop shopping experience. With this mobile site, we're going to do it again
Brooklyn, NY (PRWEB) September 23, 2014
Appliances Connection, America's premier online retailer for major home appliances and furniture in every category, announced today the launch of a convenient mobile site, m.appliancesconnection.com. Optimized for phones and other mobile devices, making it is easier to navigate by touch, offering both convenience of on-the-go shopping and Appliances Connection's legendary selection of home goods by top manufacturers.
Now it's easier than ever to find the best deals on the highest-quality products, allowing customers to compare products straight from their phone while they're shopping. That means that the best deals are always just a tap away.
"This is a constantly changing market," says Appliances Connection social media manager Brian Visaggio, "and customers deserve to be able to get the best price available for any product. Our new mobile site allows the sort of on-the-fly price comparisons that make saving real money easy."
The mobile site offers all the content of the desktop site, including product pages, sales, rebates, user-generated reviews, and customer service content. With access to the same feature-rich experience, users can make their buying decisions when it's on their mind. With many home renovation and decor projects taking place on weekends or at odd hours, customers no longer need to sit down at a computer to find exactly the product they need, but can instead determine their needs and make the purchase almost simultaneously.
Visaggio concludes, "Appliances Connection has already revolutionized the desktop shopping experience. With this mobile site, we're going to do it again."