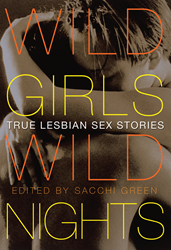 Really hot! -Curve Magazine
(PRWEB) September 19, 2014
Wild Girls, Wild Nights has received a rave review in Curve Magazine. Wild Girls, Wild Nights is a groundbreaking erotic anthology of real-life lesbian romance, and has won a Lammy and Goldie.
"The writers open up and share their most intimate sexual encounters with their unseen audience. It feels different from reading erotica fiction – it's intimate, almost voyeuristic. You're getting the inside view on how real lesbians from all over get down and dirty," explained Curve Magazine. "It most definitely lives up to its title, women being sexually untamed and wild. Reading it might even inspire you onto some wild nights of your own!"
Wild Girls, Wild Nights includes first times, life-long commitments, and fleeting encounters to savor for a lifetime. Tenderness merges with edge-play; scenes shift from Caribbean islands to desert battlefields to the ultimate privacy of home; and the writers range from well-known names to newcomers driven to share fresh memories they'll never forget. Wild Girls, Wild Nights is also available as an audiobook.
Cleis Press publishes provocative, intelligent books across genres. Whether literary fiction, human rights, mystery, romance, erotica, LGBTQ studies, sex guides, pulp fiction, or memoir, you know that if it's outside the ordinary, it's Cleis Press.