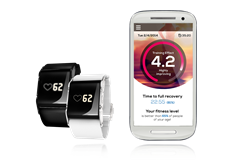 We're delighted to be working alongside Nemesis Distribution, who have a proven track record in launching new fitness technology in the UK
London (PRWEB UK) 22 September 2014
Finnish mobile wellness technology company, PulseOn, is proud to announce its partnership with Nemesis Distribution as a key foundation for the upcoming launch of its ground breaking and innovative consumer sports heart rate monitor in the UK. The PulseOn uses accurate heart rate data to help users manage their training programmes more efficiently in order to reach their full fitness potential. PulseOn's wrist-based optical heart rate monitor will be available in the UK October 1st 2014.
PulseOn's heart rate monitor incorporates the very latest in optical heart rate monitoring with sophisticated algorithms to allow users to accurately monitor their heart rate throughout training events and beyond, without the use of a chest strap. When combined with the free smartphone app on iOS and Android it allows its user to understand the effect of training on their body and optimise their training. PulseOn will tell them what their heart rate means and transforms the information into easily actionable feedback, whether they are an athlete or a beginner. It will also be there to coach them towards their next fitness level and motivate them to train better.
"We're delighted to be working alongside Nemesis Distribution, who have a proven track record in launching new fitness technology in the UK and will enable us to reach our ideal reseller and retailer partners quickly and effectively. By working together we'll be able to help fitness enthusiasts in the UK train more efficiently to truly help them reach their full potential," commented Karla Asikainen, Head of Sales and Marketing for PulseOn.
The key features of PulseOn include:

Strapless - PulseOn tracks the heart rate continuously without the need for a chest strap
Accurate - PulseOn provides accurate and reliable heart rate measurements during and after training
Small and stylish - PulseOn's wrist device is the smallest and most comfortable heart rate monitoring device available
Meaningful insights - heart rate data is transformed into actionable feedback that can be easily understood by users, providing guidance on how to optimise activity effectively
Personalized - feedback is based on each individual, not just people in general
Wireless - PulseOn syncs data automatically with smartphones, allowing for easily accessible and portable feedback
"Nemesis is proud to be involved with this new product from PulseOn. We feel that it fulfils a requirement for many fitness enthusiasts so they can monitor their heart rate accurately and with superior comfort. The mobile app creates an inviting experience for the user to further understand the impact of their training regimes and motivate them to get out there more often," Chris Chance of Nemesis Distribution.
Organisations interested in becoming PulseOn resellers should contact Nemesis on 01905 720176.
About PulseOn – A spin-off from Nokia and headquartered in Espoo, Finland, PulseOn has developed and patented the most accurate and reliable optical heart rate sensor. The highly talented multinational team of 15 people consists of researchers and experts in sensor technology, algorithms and mobile technology, supported by excellent track records in commercialisation and business development.
About Nemesis –Nemesis is a UK distributor of Portable and Wearable technology products. Since 1997 Nemesis has backed up its brands with a range of services from regular and trusted distribution to bespoke special services – always with reliability and a focus on quality. The business is about growth, movement and flexibility so it strives to meet the changing needs of its customers and markets. The team embodies a rich mix of youthful energy, tenacity and experience. Common to all is the drive to provide innovation and value in the products and services offered and to deliver them with a strong ethical and customer orientated motive.