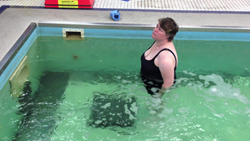 People often have a fear of falling, so putting them on a ball or asking them to lift up a foot is impossible on land. In the pool, they feel like they can accomplish more. There's less fear of falling, and they build more confidence.
Middletown, PA (PRWEB) September 22, 2014
As humans age, they become more susceptible to falling. In fact, falls among those within the older population are shockingly common. The Centers for Disease Control and Prevention (CDC) revealed in 2010 that approximately one third of persons ages 65+ can expect to fall annually. While the majority of those who fall are able to return to their activities of daily living (ADL) without suffering permanent consequences, up to 30 percent die from their falls, increase their likelihood of dying sooner as a result of the fall, and/or have to be hospitalized because of the fall. Falling doesn't only result in physical and psychological damages; it also costs taxpayers and individuals billions of dollars each year. The CDC expects that by 2020, the direct and indirect healthcare costs attributable to fall-related injuries will exceed 67 billion dollars.
These statistics show just how important having the ability to balance is for men and women as they age. In fact, many physical and occupational therapists focus on putting patients through rigorous land-based exercises to improve balance and thereby decrease the chance of falls, not to mention make ADLs much safer. A recent study released by Utah State University researchers indicates that aquatic therapy exercises performed in lieu of or in addition to land-based exercises may help improve balance in patients faster by forcing the patients to exert greater effort during balance trials without creating an environment in which they could hurt themselves due to a fall.
The results of the study "Effect of Aquatic Immersion on Static Balance," authored by Louder, et al, were released in spring 2014. The study compared the measures of static balance and limits of stability in both land and aquatic environments. During their research, Louder and his fellow study authors, including Utah State University's Dr. Dennis G. Dolny, measured participants' balancing abilities under three settings: on land, submerged in a HydroWorx therapy pool to the waist, and then submerged in the same pool to the chest. The results indicated that when they were in the aquatic environment, participants had to work harder to maintain their balance. The exercises performed in the HydroWorx pool in which they were submerged were more difficult to perform due to the variety of stability saboteurs [e.g., hydrostatic pressure, reduced gravity.]
Dolny explains the ultimate findings of the study: "When healthy adults stand quietly in chest deep water, they display greater postural instability compared to on land. Developing stability using exercises that are characteristically unstable, yet safe (e.g., aquatic environment) improves coordination and balance. Improvements in balance lead to reduced fall risk in the elderly. So the water provides a more challenging environment to work on stability, yet is obviously a much safer environment with essentially no down side if loss of balance occurs, as compare to land."
Anecdotal evidence from physical and occupational therapists support Dolny's comments. At Stonehill Franciscan Services in Dubuque, Iowa, Director of Rehabilitation Rachel McDermott, PTA, regularly encourages physical and occupational therapists to use the facility's HydroWorx 2000 Series therapy pool to improve patients' overall stability and balance. As she notes, putting their patients in the pool and using the resistance of the water (as well as the resistance jets and variable-depth underwater treadmill floor) has been tremendously helpful.
"We've seen a better return in balance for our patients, and a little quicker return as well," she says. "People often have a fear of falling, so putting them on a ball or asking them to lift up a foot is impossible on land. In the pool, they feel like they can accomplish more. There's less fear of falling, and they build more confidence. They are able to progress nicely. Any therapeutic exercises you can do on land, you can creatively adapt to the water."
McDermott and her team regularly use their therapy pool to progress patients via reciprocal, functional movements aimed at not only improving balance, but also improving their ADL abilities. Patients may even be asked by their occupational therapist to "dress" in the pool by putting wet pants, shorts or T-shirts over their pool clothing. This helps the patients learn to stabilize their bodies in an unstable atmosphere, which makes transitioning to performing the same activities on land much easier. As McDermott adds, "This is really challenging. We've tried it ourselves! You have to have upper body and core strength. It's a great activity to do with our patients who are going home."
Anson Flake, Co-Founder and CEO of HydroWorx, was pleased that the Utah State University study corroborated what customers of his company's advanced therapy pools already knew and were practicing. "Professionals like Rachel McDermott have been using HydroWorx therapy pools for years to reduce the likelihood of falls in their patients through systematic aquatic exercises. It's great to have scientific proof to back up what we are told by clients and pool users every day."
Utah State University is continuing to release other studies related to the benefits of aquatic therapy for various populations. The condensed explanation of the study related to this release can be found on the "International Journal of Aquatic Research and Education," online database.
About HydroWorx
HydroWorx, based in Middletown, Pennsylvania, offers a wide range of underwater treadmill therapy pools, and peripheral products and services. Every day, more than 23,000 athletes and patients use HydroWorx technology to recover from injuries and health conditions.