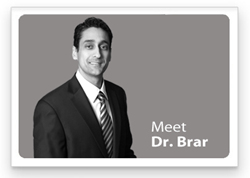 'There are lots of important reasons to get a baseline eye screening in your 40's,' says Dr. Amarpreet Bra with NVISION Laser Eye Centers.
Newport Beach, Calif. (PRWEB) September 22, 2014
Now in its second decade, September is "Healthy Aging Month," according to Carolyn Worthington, editor-in-chief of Healthy Aging Magazine. Worthington explains September is the month for adults, 45 plus, to improve their physical, mental, social and financial well-being.
Dr. Amarpreet Brar, an eye surgeon at NVISION Laser Eye Centers, says it is also important for baby boomers to keep their eyes healthy as well.
"The American Academy of Ophthalmology (AAO) recommends an eye disease screening for all aging adults in their early 40's," says Dr. Brar, who performs surgery at NVISION's Torrance and Fullerton locations. "This is the time when early signs of disease and changes in vision may start to occur. Based on the results of the initial screening, an ophthalmologist will prescribe the necessary intervals for follow-up exams."
According to Dr. Brar, here are some important reasons to get a "baseline" eye screening in your 40's:

Several common eye diseases can impact people 40 and older without them knowing there is any problem with their eyes.
A baseline evaluation is important because it may detect eye diseases common in adults aged 40 and older. The evaluation creates greater opportunity for early treatment and preservation of vision.
A thorough ophthalmologic evaluation can uncover common abnormalities of the visual system and related structures, as well as less common but extremely serious ones, such as ocular tumors.
This evaluation can also uncover evidence of many forms of systemic disease that affect the eyes, like hypertension and diabetes.
With appropriate intervention, potentially blinding diseases such as glaucoma, cataract and diabetic retinopathy often have a favorable outcome.
For individuals at any age with symptoms of or at risk for eye disease, such as those with a family history of eye disease, diabetes or high blood pressure, the AAO recommends that individuals see their ophthalmologist to determine how frequently their eyes should be examined.
About NVISION Laser Eye Centers
NVISION Laser Eye Centers is an innovative leader in lifestyle surgical eye care with 17 locations in California and Nevada. NVISION is the first provider in California to offer LASIK eye surgery with the Swiss-engineered Ziemer Femto LDV™ Crystal Line Laser. In addition, NVISION is the first provider in California to offer the bladeless, computer-controlled LenSx laser -- unquestionably the most technologically advanced option for laser cataract surgery -- and the first in the nation to offer Avellino DNA testing for an added level of LASIK safety.
With more than 1,700 eye doctors who refer their patients and trust their own eyes to NVISION surgeons, NVISION Laser Eye Centers is the Eye Doctors' #1 Choice®. For more information, visit http://www.NVISIONCenters.com or call 1-877-91NVISION (1-877-916-8474).