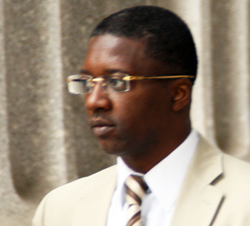 With the experience of the past I look to the future with confidence and enthusiasm to build a practice that is responsive to clients' needs and robust enough to take on the legal Goliaths
(PRWEB) September 22, 2014
Vivian M. Williams, a New York litigator is proudly celebrating his 10-year anniversary as a New York attorney. The Benjamin Cardozo School of Law graduate took the oath as an attorney on September 22, 2004. He has been serving the New York Metro area since 2004.
Vivian Williams, who is the founder of Vivian Williams P.C., started his private practice as a General Practice New York attorney on Wall Street. After six (6) on Wall Street Williams moved his practice to mid-town Manhattan and is now located on 5th Avenue. He has since developed a federal practice having been admitted to the Federal District Courts in New York's Eastern and Southern Districts, the Second Circuit Court of Appeals, and the United States Supreme Court.
Over the past 10 years Williams has done significant work in the areas of Real Estate litigation, Foreclosure, Bankruptcy, Civil Litigation, Criminal Defense, and Immigration Law, among other areas.
During his 10 years of service to the New Metro area Vivian Williams as achieved a good measure of success in the various areas he practices in New York State and Federal system. Mr. Williams has won back properties sold in foreclosure sales by some of the nations largest banks, won favorable decisions in many civil and criminal cases, and has a very high success rate in Bankruptcy and Immigration law.
"Looking back, I think it is fair to say that I have provided dynamic, and aggressive representation to clients," says Williams, adding that he pursues a result oriented approach to litigation. "When people contact me the first thing I try to determine is what the client wants and then I craft a strategy to achieve the client's goals in the most cost effective manner," Williams said.
A Lexis Nexis profile of Vivian Williams shows that he has 38 reported decisions, and has been referenced twice in secondary materials. During his 10 year career Williams has also argued before the Second Circuit Court of Appeals many times.
"The past is a source of knowledge, wisdom and understanding. With the experience of the past I look to the future with confidence and enthusiasm to build a practice that is responsive to clients' needs and robust enough to take on the legal Goliaths," Williams assures.
Like everything else, the journey was NOT without challenges Williams explains. "I am NOT perfect. I am human and being a lawyer doesn't take away my flesh, blood and human frailty. What I am proud of those is that I strive for perfection so that even in moments of imperfection I am at ease knowing I have given the best of me," he explains.
"I have learnt so much over the past 10 years that without a doubt they produced some of the most defining moments of my life and without making light of my other years, these years feels like my most significant years not because of the title I carry but because of their impact on me," says Williams.
But it is to his clients that he reserves highest praise noting that "The true heroes of these 10 years are the clients. Those who stood with me in thick and thin and provided wind beneath my wings"