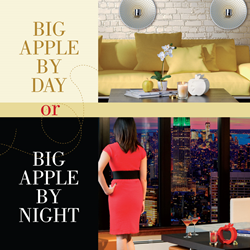 Which style are you? Big Apple by Day or Big Apple by Night. Vote and enter the Facebook contest Sept. 15 - Sept. 30 for a chance to win $250 of Jonathan Adler for PartyLite candles and home decor.
Plymouth, MA (PRWEB) September 22, 2014
The world's #1 candle party company, PartyLite, has joined forces with iconic American potter, designer and author Jonathan Adler to create a fantastic and exclusive new collection of candles, candle holders and two new fragrances celebrating the glamour, fun and style of New York City.
The two fragrances are called Big Apple by Day and Big Apple by Night. Jonathan Adler says, "You can have great New York City style wherever you live." And PartyLite is asking, "What's Your Big Apple Style?"
Big Apple by Day – Bursting with New York City's non-stop energy and vibrant spirit. The juiciest of apple slices touched with the notes of a fresh bouquet from the corner flower stand.
Big Apple by Night – Captures the seductiveness of the city that never sleeps. Bourbon-soaked apples mingle with exotic spices and wood notes for an after-hours, downtown vibe.
From Sept. 15 through Sept. 30, PartyLite invites fans to enter and vote on the PartyLite Facebook page once every 24 hours. Each vote enters someone in the Facebook contest and earns a chance to win a SUPER prize: $250 worth of candles and home décor from the new Jonathan Adler for PartyLite Collection.
Five winners will be chosen by a paid random selection service and announced on Facebook within a week of the contest ending. Each will receive a PartyLite gift certificate for the Jonathan Adler for PartyLite products of their choice.
And so much more awaits! There's lots of glowing gold glam for the holidays, from a tall, dramatic gold hurricane to a swanky, soft gold votive holder. There's a stunning contemporary wall sconce. There are cool white ceramic candle holders and sharp red accent pieces, and charming white porcelain creatures to add a touch of fantasy to any table – sculptural peace doves and a little ceramic squirrel that's fast becoming totally adored.
The candles are fabulous! Gorgeous jar candles, perfect votives and tealights in Big Apple by Day and Big Apple by Night fragrances.
Jonathan Adler himself sets the perfect tone for the upcoming fall/holiday entertaining season:
"I want to bring style, craft and joy to people's lives, and New York is my inspiration," he says. "It's about friendliness and warmth. I believe design should be optimistic, with a sense of wonder and happiness.
"The Jonathan Adler Collection for PartyLite is brilliant," says Joan Connor, President of PartyLite North America. "Each piece reflects Jonathan's signature spirit of irreverent luxury. They are delightful and glamorous and are the perfect size for your holiday table. They also are incredibly creative gift ideas, just in time for the upcoming season. And all the candles and candle holders are exclusive to PartyLite."
PartyLite fans will want the entire collection, and won't want to miss this opportunity to win some of their favorite pieces. It's easy! They will simply vote for their favorite Big Apple Style and provide their name and e-mail address so PartyLite can contact them if they're a winner.
About PartyLite
PartyLite is the world's #1 party plan company selling candles, candle holders, flameless fragrance and wax warmers as well as holiday and home décor in 21 countries through independent PartyLite business entrepreneurs. Since 1997, the PartyLite family of consultants, customers and employees has raised more than $14 million for the American Cancer Society and nearly $4 million for Children's Miracle Network. In 2014, PartyLite celebrates 41 years as the global leader in its category and 24 years as a member of the distinguished Blyth family of direct selling companies (NYSE:BTH). PartyLite is one of 53 Direct Selling Association member companies recognized during the 2014 annual meeting for participating in DSA's Code Communication Initiative, focusing on observing and communicating the DSA Code of Ethics as widely as possible. Based in Plymouth, Mass., PartyLite is a member of the Direct Selling Association and the Better Business Bureau. For more information, please visit http://www.partylite.com.