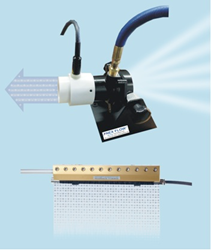 Dirt buildup is a problem in many types of production applications, especially where plastic, fiberglass or other materials that have a propensity to develop a static charge are used. Different ionized blow off systems are used depending on the surface shape and particular application.
The Nex Flow™ Ion Blaster Beam™ for annular applications (curved surfaces, into blow molded parts, containers) and the Air Blade™ Ionizer for linear applications (sheet, molded flat parts) will remove static charge from a charged surface and can remove static free dust from several feet away with no moving parts.
The air volume and velocity are infinitely adjustable over a wide range using a pressure regulator to address any application from light to heavy duty. The use of a "air amplification technology" maximizes ionized airflow with large volume entrained while minimizing the use of compressed air. In most applications only 10 psig (0.7 bar) is required to operate effectively.
Nex Flow™ has a complete range of static control technology along with professional expertise to advise and assist in any static control application:
Nex Flow™ static control products are made to last! Power Supplies are "repairable" and come with an unparalleled two year warranty. Several ranges of power supplies are also available from simple to more complete monitoring systems.