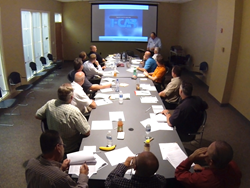 Every fleet and its business partners need to be prepared to deal correctly with the challenges of aluminum collision repairs, and I-CAR's course is a great way to do it. -- Wayne Smolda, CEI
Trevose, PA (PRWEB) September 22, 2014
Fifteen members of the in-house Quality Control team from the CEI Group, Inc. (CEI) have completed I-CAR's course in collision repairs on the new 2015 Ford F-150 pickup truck, which makes the most extensive use of aluminum of any light-duty vehicle on the road, CEI announced today.
"Auto manufacturers are starting to use more aluminum because of its strength, lighter weight and greater corrosion resistance, but it requires a range of completely different repair techniques than steel," said Greg Neuman, CEI's senior manager of quality control. For example, he said, different welding tools and procedures are required, and repairs must be made in a totally separate and contained area of a repair shop to keep the metal free from any contact with steel, which causes aluminum to corrode.
The Ford F-150 – one of the most popular fleet vehicles – is the first American-made vehicle to use aluminum for all of its body panels and most of its internal structural parts. "What's happening with the F-150 is a harbinger of things to come in fleet, " said Wayne Smolda, CEI's CEO and president. "Every fleet and its business partners need to be prepared to deal correctly with the challenges of aluminum collision repairs, and I-CAR's course is a great way to do it."
The day-long course was conducted at CEI's headquarters and concluded with an examination. "The course was very comprehensive and thorough, and the test was rigorous," Mr. Neuman said. "We've encountered aluminum material in some body parts for years, but the Ford F-150 presents a whole new challenge for the collision repair industry at large."
CEI provides fleet accident management services as well as fleet driver safety and risk management services. Mr. Neuman's quality control department audits every repair estimate it receives from its network of auto body shops for accuracy, safety and cost savings.
I-CAR, the Industry Conference on Auto Collision Repair, is an international not-for-profit organization dedicated to providing the information, knowledge and skills required to perform complete, safe and quality reports. For more information about I-CAR, please visit https://www.i-car.com/Home.
About CEI
The CEI Group, Inc. is the largest integrated fleet accident, driver safety and risk management providers in North America. Its provider network consists of some 4,000 collision repair shops in North America, and includes nearly 1,000 truck collision repair centers. Its customers include self-insured, commercial, institutional and government fleets, directly and through alliances with fleet leasing companies. CEI also provides vehicle direct repair program outsourcing to leading property and casualty insurance companies.
Founded in 1983, CEI has headquarters near Philadelphia, PA, and field sales offices in Trevose, PA, Tulsa, OK, and Lake in the Hills, IL. In 2000, CEI launched the DriverCare™ line of services, which include fleet risk management, MVR ordering and compliance, on-line and behind-the-wheel driver safety training and a safety newsletter. For more information about CEI, please visit http://ceinetwork.com.