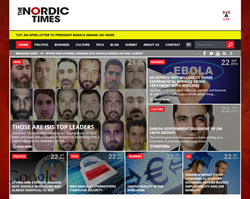 Copenhagen, Denmark (PRWEB) September 23, 2014
The Nordic Times is a Non-commercial Liberal Scandinavian online newspaper and aggregator founded by MediaBuzz ApS, a Danish media company based in the heart of Copenhagen, Denmark.
The Nordic Times works with cutting-edge news, blogs, social feeds, and original content covering politics, culture, business, technology, local news, EU news, and news from around the world.
The Nordic Times focuses on Viral Journalism and Viral Content – acknowledging the way that virality has changed and shaped journalism in the 21st century.
Viral Journalism
At its heart, Viral Journalism is investigative journalism and analysis – revealing hidden truths or new pieces of knowledge. Appealing to a definitive explanation of what is true, new, and right, stories become more influential when shared on Social Media.
Viral Content
Viral Content is the single, simple piece of information that people share because it is funny, enjoyable, awkward, or feel-good in nature. It is a kind of information that is not open to interpretation because the reason behind its sharing is obvious.
Vision
The Nordic Times' vision is based on the perception that the Internet Digital Media is transformative. Information becomes increasingly viral and reconfigurable through time and space, to meet the exponential growth of communities and their need for valuable and efficient information. The vision of The Nordic Times is to be a conduit for such transformation.
What makes content successful?
In the age of Digital and Social Media, a story's success is measured by virality – by what people share with others, rather than what people read or watch on their own. Sharing creates greater community connection. That connection helps to enjoy a global society of shared experience-enhancing humanity's bond and relational awareness.
The Nordic Times appreciate comments and suggestions.