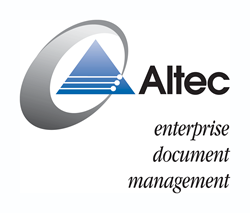 Laguna Hills, CA (PRWEB) September 23, 2014
Altec Products, Inc., a leader in enterprise document management and workflow solutions, will be a participating sponsor of RG Connect 2014, The Resource Group's 14th annual Microsoft Dynamics® GP customer conference, from 8:00am – 5:00pm on Friday, October 24, at The Meydenbauer Center in Bellevue, Washington. The Resource Group helps its clients to improve business processes, overcome challenges during growth and connect disparate business systems implementing Microsoft Dynamics GP and Intacct accounting software.
Each year, The Resource Group hosts more than 125 Microsoft Dynamics customers who attend the day-long event to network with peers, see the latest technology from Microsoft and its Partners and most importantly learn how to use their system better. "Building Now for Your Future" was selected as this year's theme.
RG Connect 2014 will have more than 20 concurrent breakout sessions, including tips and tricks for Microsoft Dynamics GP as well as an executive leadership track.
As a sponsor, Altec will participate in the Expo providing conference attendees with information about doc-link, a document management solution tightly integrated to Microsoft Dynamics ERP systems. doc-link is Certified for Microsoft Dynamics (CfMD) and brings control to existing workflow to effectively eliminate the need to copy, print and file documents.
Scott Hall, Altec Sales Director for the Northwest, will host Altec's breakout session, "A Day in the Life of a Paperless Office" from 1:00pm to 1:45pm. He applauds the event, stating, "I look forward to both absorbing feedback from attendees and sharing how doc-link can expertly drive business and quickly realize an ROI. We are honored to have the opportunity to sponsor this conference that unites Altec with Microsoft Dynamics users for such a rewarding educational experience."
"The Expo portion of RG Connect is a valuable resource for our customers," said Marty Schillaci, CEO of The Resource Group. "It provides them with an opportunity to learn about the products our ISVs, or Independent Software Vendors, have to offer and how those tools can work to maximize their financial management solution."
For more information about RG Connect 2014, please visit http://www.resgroup.com/rgconnect.
About Altec
Altec is a leading provider of Integrated Document Management (IDM) solutions to mid-market companies. For more than 25 years, Altec has provided a wide range of accounting-centric paper to paperless solutions including its flagship product, doc-link, which enables companies to capture, archive, workflow and route structured and unstructured documents to customers, employees and vendors. Altec's comprehensive solutions include IDM, output management, MICR check disbursement and paper documents that serve more than 13,000 customers worldwide. Altec enjoys strong, collaborative partnerships with ERP solution providers like Microsoft Dynamics to provide the most comprehensive, integrated enterprise document management solution. Altec delivers its IDM solutions through a global network of authorized partners in more than 60 countries throughout the Americas, EMEA and Asia Pacific. For more information, visit Altec at the company website at http://www.altec-inc.com. Follow them on Twitter.com/doclinkbyAltec or call April Blankenship at 1-800-997-9921.
About The Resource Group
The Resource Group helps clients improve business processes, overcome challenges during growth and connects business information by providing rock solid financial management software solutions, Microsoft Dynamics GP and Intacct. Throughout Washington, Oregon and the Pacific Northwest, our clients have experienced improved operation processes, optimized financial management, robust reporting and business insight across multiple applications. Our highly-trained consultants are dedicated to building solid, long-lasting relationships with clients. The Resource Group is there throughout the entire lifecycle of your new solution; from initial software evaluation to installation, data migration, implementation, software development, system integration, training and support. To learn more about The Resource Group, please visit http://www.resgroup.com/about-resource-group.
# # #