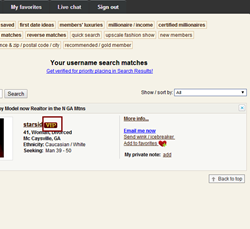 (PRWEB) September 23, 2014
The millionaire dating site MillionaireMatch.com, one of the longest running high-end dating sites on the web, has announced that a new VIP logo has been added to ensure that all members can visibly identify a high-profile member on the site. Celebrities and other members can still choose to remain anonymous, but have the option to add the VIP status to signify their higher level status.
Before the addition of the VIP logo to the site, well-known celebrities had no way of demonstrating their renown unless they changed their status from anonymous to public. Now, these individuals have a way to show off that status without giving away their identity.
The website, which has known stars on its roster including Charlie Sheen and Matthew Perry, has remained the industry's most elite dating site since it opened in 2001.
http://www.prweb.com/releases/2014/09/prweb12134338.htm
The site offers a considerable level of confidentiality, profile creation assistance, and a personal dating assistant upon request. It also provides weekly potential profile matches.
"Starsid," a member on MillionaireMatch.com, has chosen to add the VIP logo onto her profile. "Starsid" grew up in Florida and received degrees in Marine Biology and Environmental Science before moving to L.A., where she modeled for six years. She later went on to get her real estate license and move back home to Mc Caysville, GA. She currently works as a realtor for ReMax.
It was "Steve," the Special Member Director of the site, who proposed a VIP logo. The idea was an immediate hit with employees as well as members. Site members especially were happy to have an opportunity to remain anonymous yet still show off their high level status.
MillionaireMatch.com is chosen by many other high-profile members including doctors, lawyers, CEOs, professional athletes and even Hollywood celebrities. For more information on the site as well as its members, you can visit http://www.MillionaireMatch.com.