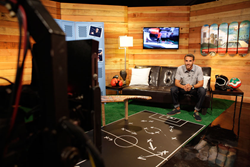 We are proud to continue to develop American Latino TV and LatiNation into some of the longest running magazine shows on television. - Luca Bentivoglio
Los Angeles, CA (PRWEB) September 23, 2014
American Latino Syndication is proud to announce new seasons of its landmark programs American Latino TV and LatiNation, kicking off across the country this week.
Now in their second decade of award-winning, English-language syndicated programming, both programs are set to make a splash with new episodes featuring inspirational stories of today's rising Latinos in everything from show business to sports.
Simply put: there are no other shows like this on English-Language, general market television.
American Latino TV, entering its 13th season, is a weekly, half-hour entertainment news and magazine show hosted by rising entertainer Valery Ortiz. American Latino TV sets the standard for culturally relevant television aimed at young, U.S. born Latinos in the United States, and features major personalities including Gina Rodriguez, Mario Lopez, and Ronda Rousey showing a side of themselves most audiences do not get the opportunity to see.
LatiNation, entering its 11th season, is hosted by journalist Humberto Guida. It covers the rise of Latinos in alternative music, the underground art scene, and extreme sports. LatiNation takes viewers to visit the places and share the experiences rarely shown in mainstream media, from athletes such as boxer Victor Ortiz sharing his secrets to staying positive, to inside peeks into far out art and music festivals like Firefly and Burning Man.
"These are franchises have established a national following, and we are proud to continue to develop American Latino TV and LatiNation into some of the longest running magazine shows on television. The new episodes for both programs are colorful, energetic and promote the enthusiasm many Latinos are feeling about their community today," Luca Bentivoglio, LATV's COO explains. "I believe American Latino Syndication, more than ever, has what it takes to bring the young adult American Latino perspective on the general market landscape for a broader audience to appreciate and enjoy."
About American Latino Syndication:
LATV Network's fully-owned subsidiary, American Latino Syndication, produces and distributes "American Latino" and "LatiNation," two award-winning, Latino-themed TV programs that are broadcast on general market stations in over 100 cities nationwide. All LATV's original shows and American Latino Syndication productions are entirely produced at The Complex Studios, the full service, state-of-the-art production center located in West Los Angeles
go to http://www.LATV.com and http://www.latination.tv
# # #
Media Contact:
Melina Rodriguez
Marketing Manager & Affiliate Relations
310-943-5288
mrodriguez@latv.com