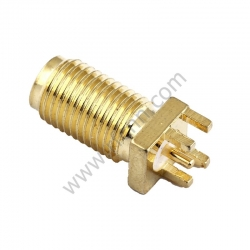 (PRWEB) September 23, 2014
Recently, LenoRF, one of the leading companies in the connector industry, has announced great discounts on its RP-SMA connectors. Also, its online workers have updated its website, which allows worldwide customers to share ideas and communicate in an easy and effective way. All the RP-SMA connectors are offered at discounted rates, up to 30% off.
In the promotion, all the company's newly released RP-SMA connectors are offered at low rates, up to 30% off. The company ensures that all clients throughout the world receive top quality RP-SMA connectors as usual. According to the marketing specialist of the special offer, these cheap connectors can offer excellent electrical performance.
"We are proud to launch the big promotion for clients from around the world. Now, all our functional and reliable RP-SMA connectors are priced much lower than their actual worth. I believe that the special offer will offer many manufacturers a perfect connector solution," the marketing specialist says.
"LenoRF is famous as an innovation-based company; those who are thinking of buying practical connectors online can certainly trust us." He adds, "We are providing worldwide clients with comprehensive solutions in ways no other suppliers can. In the new year, we will keep working efficiently and providing high quality items for worldwide clients."
About LenoRF
LenoRF is a famous global manufacturer of coaxial connectors and cable assemblies. The company has been specializing in the industry for several years and it insists on providing effective turnkey solutions for radio frequency system. Its customers include worldwide OEMs, distributors and system integrators from various fields like broadcast, land-mobile, wireless communications, microwave market sectors and so on.
For more information, readers can visit http://www.rfcnn.com/SMA-Female-For-PCB-Board-Edge-Soldering-RF-Connector-97.html.