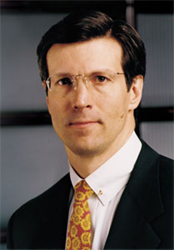 These are the most important changes in the regulation of capital formation in more than a generation and it is critical that both investors and companies understand how they are being used to increase shareholder value & what more is likely to come...
Houston, Texas (PRWEB) September 25, 2014
FSXinterlinked is very pleased to announce that David Weild, former Vice Chairman of NASDAQ and "Father of the JOBS Act", will deliver the keynote address at the FSXinterlinked investment conference Oct. 29th through Nov. 1, 2014 at The Rtiz-Carlton Dove Mountain, near Tucson, Arizona.
Weild, who currently is the Founder, Chairman and CEO of IssuWorks, will speak on the JOBS Act and recent regulatory changes that affect companies raising capital and investors' dealings with emerging-growth companies. Prior to his current position, Weild spent years running Wall Street investment banking and equity capital markets businesses, and has overseen the marketing, distribution, pricing and aftermarket stabilization of more than 1,000 public offerings during the course of his career.
"Whether you are a funding source looking for new investment opportunities, or an emerging-growth company seeking capital, the JOBS Act represents a sea-change in securities laws and is designed to help the capital formation process," said FSXinterlinked president, Delray Wannemacher. "We are very excited to be able to give our conference attendees the ability to gain insight directly from the Father of the JOBS Act, David Weild. It is going to be a must see event."
"These are the most important changes in the regulation of capital formation in more than a generation and it is critical that both investors and companies understand how they are being used to increase shareholder value and what more is likely to come out of Washington DC," said David Weild, Founder, Chairman and CEO of IssuWorks. "I am delighted to speak at the FSXinterlinked event, and look forward to educating investors and companies on the JOBS Act, how to better raise capital and how our stock markets are likely to change in the future."
Registration for the FSXinterlinked investment conference is now open. For more information about the FSXinterlinked conference in general, or this keynote presentation in particular, please visit the FSXinterlinked website at http://www.fsxinterlinked.com
____________________________________________________________________________________
About FSXinterlinked
Since 1982, FSXinterlinked, a premier investment conference organization, has been connecting emerging-growth companies raising capital with broker-dealers, registered investment advisors, accredited investors, and licensed funding sources. With quarterly events hosted across the U.S., FSXinterlinked has assisted in over $3 billion in capital formation. The 3-day long events feature company presentations, networking opportunities, 1-on-1 meetings, educational seminars, FINRA updates, exciting keynote speakers and more. For more information, please visit http://www.fsxinterlinked.com