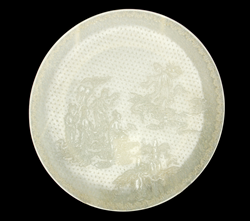 Beverly, Massachusetts (PRWEB) September 24, 2014
Chinese art and antiques take center stage at Kaminski Auctions on Sunday October 5th. Bob Yang, Kaminski's Asian specialist has put together an outstanding selection of fine Asian art and antiques for this important fall sale.
Jade items feature prominently in the sale. A rare and important Chinese Imperial translucent white jade plate is the top lot of the sale. The plate is carved with scenes of scholars paying tribute to Guanyin, and measures 7 1/4" in diameter. It has the Qianlong mark and is directly descended through the family of an important New York collector for the past 55 years. The rare plate is estimated at $30,000-$50,000.
Jade entries continue to dominate the top lots of the sale. A Chinese spinach jade elephant, having a gilt saddle decorated with dragon images and colorful semi precious stones, topped with a miniature gilt vase and standing 18 inches high, is surely one of the stars of the auction, as well as a Chinese carved white jade seal, covered on all sides with gilt calligraphy and surmounted by an intricately carved double headed mythical beast. Both are valued at $20,000-$30,000.
There are also two important carved jade mountains in the sale. Lot #5172 is a Qing Dynasty carved white jade mountain valued at $10,000-$20,000 while a second Chinese carved white jade mountain, lot #5166 is a naturalistic rock form carved with figures of an elder and a boy and valued at $8,000-$12,000.
Fine Chinese porcelain from an important Pennsylvania collection features prominently in the sale. Top porcelain entries include an elegant Qing Dynasty blue glazed garlic head vase, with the Yongzheng mark on base, in its original wood box and a green glazed porcelain tripod Chinese Gui bowl, carved with animal heads terminating in naturalistic feet, and the cover decorated with mushrooms and Zhou Su Gui characters, with Guangxu mark on base and original hard wood stand. Both pieces are valued at $10,000-$20,000.
Cloisonné standouts in the sale include a screen intricately decorated with a colorful landscape scene and calligraphy. The screen measures 27 1/2"h x 30 1/2"w x 9 1/2"d., and is estimated at $10,000 -$20,000. There is also a Qing Dynasty gilt cloisonné hexagonal shape wash basin, decorated with a multicolored lotus flower pattern on a turquoise background, with the Qianlong mark on base, valued at $5,000-$8,000.
Sure to garner much interest is a series of six Chinese signed scroll watercolor paintings, by the renowned artist Guo Dawei, a student of Qi Baishi. All six together form a continuous image of lotus flowers and are valued at $10,000-$20,000.
A Qing dynasty and Sino-Tibetan gilt bronze Buddha round out the more important entries in the sale along with a fine selection of porcelain, furniture, jewelry and art. Preview for this important sale is Thursday, October 2nd through Saturday, October 4th, 10:00am-5:00pm and starting at 8:00am day of sale at the Kaminski Auction gallery at 1117 Elliott Street, Rt.62, Beverly, Massachusetts.
For more information:http://www.kaminskiauctions.com and register to bid with KaminskiLIVE.