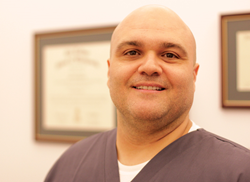 "You have to meet with the best of your colleagues, find out how high the bar has been set and then push it even further. You have to advance yourself constantly, and advance the profession as a whole."
New York, NY (PRWEB) September 26, 2014
Gonstead diplomate Dr Jose Cortes recently attended up an extremities centered seminar in Peoria, IL. Dr Cortes wrapped up the seminar at the end of August and feels that it will further expand ability to treat the extremities, to address mechanical injuries and issues beyond the spine. He has been practicing for almost 13 years and is also a CBP (Chiropractic BioPhysics) certified chiropractor. He is one of a few advanced chiropractic practitioners that doesn't just treat misalignments of the spine. He is well versed in treating painful conditions whether they stem from acute trauma or postural issues. Dr Cortes is a also a lauded Gonstead diplomate, and one of only 2 chiropractors in manhattan that hold the diplomate accreditation. He works alongside medical doctors, physical therapists, as well as massage therapists.
According to the Gonstead Clinical Studies Society, "The focus of the Gonstead adjustment is to be as specific, precise and accurate as possible, addressing only the problem areas (areas of subluxation). Great care is taken to ensure a bio-mechanically correct position and precise thrust to provide the most accurate and painless adjustment possible." The recent seminar took that focus beyond the spine, and on to treating pain and injuries to the extremities of the skeletal structure. By treating the root cause of pain for injuries beyond the spine, Dr Cortes ensures that he is able to treat every aspect of his patient's musculoskeletal issues. "I can treat the most often injured areas of the spine, such as the (lumbar) lower back, the thoracic, and neck, and Ive already been treating elbows and shoulders using Gonstead methods. Now I feel like Ive furthered my understanding of a lot of various joint injuries, and also increased my ability to evaluate diagnostic imaging like X-Rays." Said Dr Cortes.
Dr Cortes has also been working with high level CrossFit athletes for a few years and helping them deal with chronic pain and injury, especially involving the shoulders. Misalignments, and improper training methods, as well as acute trauma of the spine in one area can lead to problems in other part, and any changes made in form to get around pain can further distribute changes in the alignment of the corresponding muscular and skeletal tissue. Dr Cortes has a special understanding of injuries related to high level competition. He is a former competitive bodybuilder, who also suffered from debilitating back pain. He tried every traditional medical treatment he could find, with no relief, until he went to a chiropractor. He has seen what chiropractic adjustments can do, first hand.
Dr Cortes regularly attends seminars as an integral part of his practice. He feels that pursuing self education through books and online resources can only go so far. He feels that, "You have to meet with the best of your colleagues, find out how high the bar has been set and then push it even further. You have to advance yourself constantly, and advance the profession as a whole." He is certain that the latest Gonstead Extremities seminar will help him further increase the level of care he is able to provide for his patients. He is the chiropractic part of an integrated system of highly individualized treatment at Living Well Medical. Located in the heart of downtown Manhattan, the practice also includes medical doctors, physical therapists, and massage therapists who work together to treat patients under one roof.
For more information on Dr Cortes, his use of the Gonstead method for treating extremities, or to make an appointment visit http://www.livingwellnewyork.com, or call 212 627 8149.