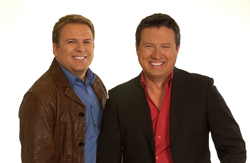 Our Ritz-Carlton shop will bring the best of our main store directly to the area's most affluent and discerning customers.
Palm Springs, California (PRWEB) September 25, 2014
Raymond | Lawrence, a curated collection of offerings, brands and selections for lovers of style and design, will open the second location of their popular store at The Ritz-Carlton, Rancho Mirage, this October. The prominently situated resort, which re-opened on May 15, 2014, as the luxury chain's 86th property, is located high above the desert floor offering panoramic views from its spectacular cliff-top setting.
Raymond | Lawrence at The Ritz-Carlton will feature vividly colored artwork and merchandise by internationally renowned artist SHAG, Studio BE – a new line of resort wear by entertainer Bobbie Eakes, a variety of swimwear from Chelsea Lane, and spectacular acrylic items from ASI. Located in the resort's Colonnade of Shops, the boutique will also carry Moods of Norway attire for men and women, silk designs by rising star couturier Fedor, one-of-a-kind leather accessories from V&G Hipwear, and apparel from Covet – San Francisco purveyors of effortless chic. Organic, locally sourced skin and body care from The Body Deli will also be available. Additional vendors include Sunglasses of Palm Springs, M.adonia handbags, and Say What!, purveyors of greeting cards and stationery.
Brainchild of designers Larry Abel and Raymond McCallister, the Raymond | Lawrence flagship store is located at 830 N. Palm Canyon Drive in the heart of the Palm Springs Uptown Design District. The store serves as host to a unique selection of retail businesses and 'pop-up' boutiques offering home décor, furniture, accessories, textiles and bedding, men's and women's fashion, shoes, and jewelry, along with private concierge, real estate, and interior design services. Each month different selections from Raymond | Lawrence will rotate into the shop at The Ritz-Carlton, keeping it fresh and interesting for resort visitors and repeat guests.
"We are elated to form a unique partnership with The Ritz-Carlton, Rancho Mirage," explained co-owner Larry Abel. "Our Ritz-Carlton shop will bring the best of our main store directly to the area's most affluent and discerning customers. The mid-Valley location and caliber of guests who frequent the resort will serve to expand the Raymond | Lawrence brand well beyond Palm Springs." The company plans to launch its first store outside of California in 2015.
"Raymond | Lawrence at The Ritz-Carlton, Rancho Mirage will provide our resort guests with an incomparable shopping experience," stated Doug Watson, General Manager of the resort. "Their unique perspective and eclectic merchandise selection will have great appeal for the luxury guest who wishes to purchase resort wear or a memento of their visit."
Raymond | Lawrence at The Ritz-Carlton, Rancho Mirage is scheduled to open in October and hours of operation will be 11 AM to 6 PM daily. For more information please call 760-322-3344 or visit raymond-lawrence.com.
About The Ritz-Carlton, Rancho Mirage:
Located on a majestic 650-foot bluff overlooking greater Palm Springs, the Ritz-Carlton, Rancho Mirage features 244 stylish guest rooms and suites, many with balconies, terraces and/or private fire pits, as well as spectacular views. Guests enjoy three swimming pools, a 25,000-square-foot free-standing luxury spa and wellness center, and a relaxing indoor/outdoor environment which restores and inspires. At the heart of the property, State Fare Bar + Kitchen pays tribute to California's prized harvest and ingredients. The resort's expansive Ritz Kids facilities offer ample space for interactive learning about local wildlife, nature and culture, as well a dedicated children's movie screening room. Memorable hiking and mountain biking can be enjoyed directly from the resort, while exclusive arrangements with leading local golf and tennis clubs also provide access to the area's renowned and coveted sports offerings.