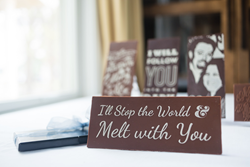 Austin, TX (PRWEB) September 25, 2014
Local chocolate artists from piq Chocolates will be at the TerraDorna open house on September 28th, 2014 from 1:00 - 5:00PM. Less than a year after being successfully funded on kickstarter, piq Chocolates has found success working with local venues to make weddings and events truly unforgettable. They specialize in creating detailed black and white designs using some of the highest quality of chocolate in the world. Levi Lalla and Donovan Crowley, co-founders of piq Chocolates, will be showing off their latest creations as well as giving away free samples at the open house event.
TerrAdorna rests on a secluded, airy ridge that is the highest point east of Austin, with a stunning, panoramic tri-county view, less than 25 miles from downtown. Artist owned and operated, TerrAdorna features: soaring ceilings, open style architecture, and use of natural materials throughout. The facility and grounds are well-suited for intimate weddings and events up to 150 people.
Other local businesses attending are:
Adorna Design
Jessi Pagel
Complete Music
Chilantro
Michelle's Patisserie
St Isabel
Crystal Occasions
Ainsley Joseph Photography
ShutterBooth