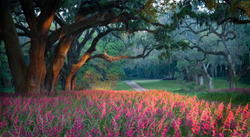 A Guided Tour of a Private Island
Hilton Head Island, South Carolina (PRWEB) September 25, 2014
In June 2014, Spring Island appointed the #1 real estate company throughout the mainland private communities in Bluffton, Gateway Realty, to showcase luxury homes on the island and homesites available still available to build a generational home. One of a kind Spring Island is timeless. The perfect place to get lost and find hidden joy. The southern architecture captures the romance of historical plantations and coastal cottages. Homes on waterfront bluffs or tucked in the woods have wrap around porches and welcoming entrances. Spring Island was recognized with an Award of Excellence in 2001 from the Urban Land Institute. What makes Spring Island unique from other Lowcountry real estate developments:
LOW DENSITY - Protecting an Unspoiled Island
Following in the footsteps of America's great leaders who designated trophy properties such Yellowstone, Yosemite and the Grand Canyon as US national parks, the developers of Spring Island followed suit changing the island's original master-plan from 5,500 homes spread across 3,000 acres to only 400 Spring Island homes. Spring Island is a preserved and protected paradise.
Narrow roads weave through the private island shaded by hundred year old, cathedral like live oak trees. Spring Island's forest is one of the largest live oak forests in the country. Long driveways often lead to elegant coastal cottages and spacious waterfront homes. The scenery changes by the hour as the tides fluctuate exposing oyster beds and the marshland. Spring Island has 36 fresh and saltwater ponds on the island providing beautiful wildlife habitats and fishing holes. As secluded as you can feel, the island was also designed with pampering amenities which blend into the landscape.
SPORTSMAN'S PARADISE - A Life Lived Outdoors
From bird watching to guided fishing excursions, residents at Spring Island have just about everything within their community that caters to an active lifestyle. Structured sports include golf, tennis, croquet, horseback riding, fitness classes and hunting. Links magazine named Spring Island one of the "Best of the Best" private golf communities in its Premier Properties Guide. Free spirited, more independent sports include kayaking, biking, hiking, and sporting clays. The community's sporting clay course was designed by Olympic Gold Medalist Dan Carlisle.
Spring Island's 32 mile extensive trail system crisscrosses the island. Whether folks choose to explore it on a bike, by foot or on a horse, the lushness of the island is mesmerizing and is the perfect place to reconnect with the great outdoors. The place to sport a camera and binoculars. This coastal South Carolina community's Nature Center is an educational institution for residents, and activities range from bird-song seminars to nocturnal owl prowls to something as advanced as our 12-week Master Naturalist Course. The center is a mini-zoo, museum and classroom where families can learn about the nature all around them. More than 600 species of plants have been cataloged on the island.
COMMUNITY GARDEN - Farm to Table Deliciousness
Imagine fields of fresh produce and herbs at a family's finger tips. A field of dreams for gardeners. That's what residents find at Spring Island. The community has created year round organic gardens sprouting farm to table vegetables and fruits for everyone. Residents save time and money picking produce within the neighborhood. Spring Island's two onsite restaurants feature farm to table produce from the community's gardens.
ART BARN - Lifelong Learning on the Island
From art workshops to nature lectures, Spring Island's Art Barn is the community's campus for lifelong learning. More than a classroom, the workshop area is designed with equipment for pottery, painting and more. The Spring Island Trust hosts 25 visiting artists and lecturers a year teaching residents about art, nature, photography and sculpture. The community also enjoys off-site trips and tours which include nature exploration in the Lowcountry or trips to the mountains. Often times, new property owners discover a hidden talent they didn't know they had as they explore the art world and nature's canvas at Spring Island. The Spring Island Trust has acquired more than 165 pieces of art gifted to the trust over the years by notable artists such as Linda Fantuzzo, Brian Rutenberg, Joellyn Duesberry, Lois Dodd, Michael Karas and more. The artwork is displayed throughout the island's buildings.
ARCHITECTURE - Creating a Sense of Peace and Belonging
Homes on Spring Island are often built with window to ceiling glass to capture the incredible beauty of the marshland. New coastal cottages are designed to blend in with nature using natural elements. Docks on the river with adirondack chairs are the sweetest place to watch colorful sunsets and listen to the clicking of the oysters as the tide recedes on the tidal marshes.
Prospective buyers have the option of choosing wooded, marsh, paddock, golf or deepwater lots on the Colleton River, Callawassie Creek or Chechessee River to build a home. This Lowcountry real estate development has approximately 264 homes built to date of the 400 planned. Many of them have been featured in architectural and interior design magazines. Homes at Spring Island reflect Federal, Greek Revival and Northeastern architecture.
Take a peek at Spring Island homes
One of the homes currently on the market is a classically designed Lowcountry cottage that says "Welcome" each time you drive down the winding oak shrouded driveway. Located in the highly desired Bonny Shore neighborhood this home offers perhaps the most expansive marsh view of any home on Spring Island. its proximity to acres of pecan orchard and the Bonny Shore Gazebo make this a perfect place for family and friends to gather. The nationally known firm of Allison Ramsey designed this home with comfort, style and visitors in mind.
The spacious master bedroom is located on the first floor and the second floor has three bedrooms and three bathrooms with its own sitting area. The perfect suite for the extended family or old friends. The living area and kitchen overlook the marsh and open onto a wonderful Carolina Room, which is a perfect area for entertaining or relaxing after a busy day.
Custom built by Paragon Construction, this Spring Island home has been lovingly maintained. There is an unfinished room over the garage that has been plumbed and would be ideal for an additional guest suite or for a hobby room. The home is priced at $975k.
Folks who'd prefer to customize their home have dozens of homesites to choose from beginning in the mid $100k's.
For those searching for a coastal South Carolina community to find a generational home and build a legacy, contact John Strother at Spring Island to arrange a visit at 843-227-2530.
About Real Estate Scorecard:
Real Estate Scorecard writes unbiased real estate reviews providing in-depth information about popular gated communities in Florida, Georgia, North Carolina, South Carolina and Tennessee, all in an effort to help people discover where to retire in the Southeast.
Website: http://realestatescorecard.com