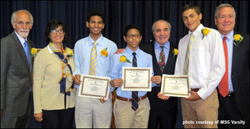 (PRWEB) September 24, 2014
Mount St. Michael Academy announced that senior Raishawn Pitt, junior Adrian Fernandez and sophomore Imanol Fernandez have been selected as the first recipients of the Rocco B. Commisso American Dream Scholarship.
The American Dream Scholarship Fund was created through a generous donation from Rocco B. Commisso, a 1967 graduate of "the Mount." Beginning with this year's winners, American Dream Scholarships will be awarded annually to outstanding Mount students entering their sophomore, junior and senior class years who have achieved academic and/or athletic success while displaying leadership and entrepreneurial qualities. The scholarships are designed to reduce the fiscal barriers for young men seeking an exceptional Catholic college preparatory education and to build a diversified cadre of successful future leaders.
The Chairman and Chief Executive Officer of Mediacom Communications Corporation, Commisso is one of the most successful Italian immigrant entrepreneurs in our nation's history. Commisso visited the Mount yesterday to present Raishawn, Adrian and Imanol with their scholarships, and to speak to the student body about how growing up in the Bronx and attending the Mount helped shape his own life's journey. The central theme of Commisso's message to the students was the importance of hard-work.
"I worked 40 hours a week while attending the Mount, and I haven't stopped working since," he said. "I have proudly lived the American Dream and I want to help other hard-working Mount students achieve their own American Dream," he concluded.
Commisso noted that the three inaugural American Dream Scholarship winners were all children of immigrant parents who overcome daily adversities to find success at the Mount. Commisso described Raishawn, Adrian and Imanol as "exemplary role models for the other Mounties to follow, and worthy to be called American Dream Scholars."