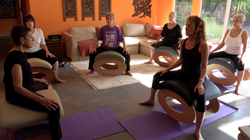 "As more aging boomers focus on staying active and preserving their physical appearance and weight, they are fueling the markets for exercise as well as vitamins, dietary supplements, fortified foods and anti-aging."
Los Angeles, CA (PRWEB) September 25, 2014
The youngest baby boomers are turning 50 this year and the US healthcare industry is gearing up to meet unprecedented levels of demand for products and services, according to eMarketer Boomers Decide Now May Be a Good Time to Stay Healthy. "As more aging boomers focus on staying active and preserving their physical appearance and weight, they are fueling the markets for exercise as well as vitamins, dietary supplements, fortified foods and anti-aging."
The Body Archer is being discovered as a unique solution to the demands of these new additions to the boomer ranks. Invented by a certified massage therapist and approved by top orthopedists, licensed Physical Therapists and Chiropractors, sales of The Body Archer have surged, fueled by baby boomers committed to staying active, healthy and flexible. Robert Wald, founder and CEO of Body Archer LLC, states: "We are selling an increasing number of our Body Archers to baby boomers, and I am so happy that they are discovering appreciating how it helps them stay flexible and young feeling. For most of us, it is our backs that take the worst beating, and I think this is one of the smartest devices I've ever seen for helping to relieve back and upper body pain and to even help prevent it."
Idelle Packer, M.S., P.T. and certified instructor of The Alexander Technique, believes that seniors need to stay active, while also considering the potential overall impact on their bodies more than younger exercisers. "The healthy back should be able to move in all directions.… Improving back, hips, chest and shoulder mobility with The Body Archer is accomplished safely through passive elongation, "allowing" the muscles to release into length."
About Body Archer LLC:
The Body Archer was invented by a certified massage therapist and developed for the retail market by Body Archer LLC to help millions of Americans prevent and relieve back pain. The company's mission is to educate consumers on the short and long term benefits of maintaining a flexible body and spine, and sitting in a healthier way. The Body Archer is manufactured in the company's home base of Los Angeles, California.