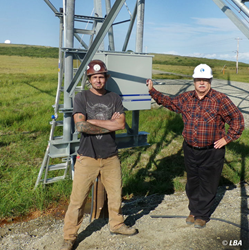 This latest project in Alaska reaffirms that LBA's services and project management skills coupled with experienced, efficient local forces can overcome nearly impossible odds to produce a positive outcome
Greenville, NC (PRWEB) September 25, 2014
Lawrence Behr Associates, Inc. (LBA), the technical services unit of LBA Group, Inc., was selected by General Communications, Inc. (GCI) to provide a solution critical to facilitating the first high speed terrestrial internet for a small village in Alaska. This AM detuning solution was needed on a new microwave relay tower to protect the signal pattern of the only AM radio station serving the small village of Kotzebue. LBA Director of Site Services, Michael Hayden, took on the challenge of leading the project in the hostile conditions above the Arctic Circle. He and a tower crew from Steelhead Communications overcame a number of obstacles to produce a positive outcome for the people of Kotzebue.
The new GCI tower was right next to the KOTZ-AM tower and threatened to disrupt the AM radio station's broadcast service to the remote population. GCI, Alaska's largest network provider, called upon LBA for an effective, fast solution. AM protection, or detuning, was required to properly protect KOTZ-AM and to comply with the Federal Communications Commission rules. LBA designed and manufactured a DetunipoleTM specifically for this microwave tower.
The Kotzebue project required careful planning, because once on site, having additional parts and tools delivered could take days. LBA sent extra parts and even designed some very specialized components. Steelhead Communications also brought extra tools and supplies. Everyone involved in the project had to anticipate as many challenges as possible prior to deploying to Alaska.
"Working in the Alaskan tundra above the Arctic Circle is very different from working anywhere else in the world," Hayden said. "We had to work in concert with the general contractor, the tower manufacturer, the AM engineer, and other local resources."
With the successful completion of this project, the Kotzebue's only AM radio station is now protected from having its signal distorted by this critical addition to the Kotzebue communication infrastructure. Completing the LBA DetunipoleTM was the final task before planned commissioning of the microwave link in October 2014. Once that equipment is on the air, Kotzebue will be connected to the world via a high speed terrestrial data path for the first time in history.
"Steelhead was one of the most professional companies I have worked with in the field," Hayden added.
This latest project in Alaska is the latest in a series of projects where LBA has successfully deployed innovative solutions in challenging environments. Some of those include the Pacific Islands, Angola, Oman, and the Antarctic tip of South America.
"This latest project in Alaska reaffirms that LBA's services and project management skills coupled with experienced, efficient local forces can overcome nearly impossible odds to produce a positive outcome," according to LBA COO and VP of Sales, Mike Britner.
The full story about this LBA AM detuning project in Kotzebue, AK is available at: https://www.lbagroup.com/blog/lba-overcomes-arctic-am-detuning-challenges/
For more information on AM detuning compliance and AM protection as it relates to communications towers and other structures, contact David Horn at: 252-757-0279,
Keep up with what's going on at LBA by following the company on Facebook.
LBA Group, Inc. has over 50 years of experience in providing technology and risk management for industrial and telecommunications infrastructure assets. LBA is a multiple INC5000 awardee, and is a minority-owned business that has been honored with Top50 diversity status in North Carolina on three occasions. The group is comprised of LBA Technology, Inc., a leading source and integrator of radio frequency systems, lightning protection, and EMC equipment for broadcast, industrial, and government users worldwide; the professional technical consultancy Lawrence Behr Associates, Inc.; and LBA University, Inc. providing on-site and online professional training. The companies are based in Greenville, N.C., USA.
About General Communication, Inc.
GCI is the largest Alaska-based and operated integrated telecommunications provider offering voice, data and video services statewide.
About Steelhead Communications
Steelhead Communications is a telecommunications construction and installation company founded in 2000 to serve the WA, OR, ID, MT, and AK markets.