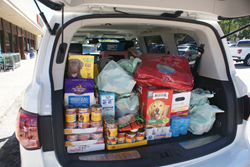 "Every donation, no matter the size, is appreciated."Joette White, President of Park Cities Pet Sitter
Dallas, Texas (PRWEB) September 25, 2014
Park Cities Pet Sitter, Inc. recently announced their participation in the 2014 NAPPS Presents 4 Pets supply donation drive that benefits the animal shelter and rescue communities. Presents 4 Pets is a national campaign that coincides with the Humane Society of the United States' Animal Shelter Appreciation Week, which is observed November 2nd through 8th, 2014.
As part of their participation, Park Cities Pet Sitter is accepting pet supply and monetary donations through November 8th, 2014 on behalf of street dog rescue group, "Duck Team 6." Pet supplies such as Blue Buffalo and Taste of the Wild brand dry dog food, Taste of the Wild brand puppy food, dog treats, slip leads, pet beds, collars, dog toys, pet carriers, dog traps, and flea and tick medications are on the list of desired donations. Cat food, cat treats and cat litter will also be accepted for use in Duck Team 6's Community Outreach program.
Park Cities Pet Sitter's donation drive begins this weekend with a "Stuff-the-SUV" event from 11am to 4pm on Saturday, September 27th at the Pet Supplies Plus location at 6060 E. Mockingbird Lane in Dallas. During the event, Park Cities Pet Sitter staff will solicit store patrons to "stuff" a brand new Sewell Infiniti SUV, donated for the day by Sewell Infiniti of Dallas, with pet supplies. Duck Team 6 volunteers will also be on hand during the event with "Duck Dogs" that are available for adoption.
Park Cities Pet Sitter President, Joette White, is excited to host the "Stuff-the-SUV" event for Duck Team 6 and their adoption team, as she knows that donors love to see the very animals that can benefit from their donations. "So much positive energy is created at this event when a store patron chooses to donate to the cause," said Ms. White. "Every donation, no matter the size, is appreciated. We love honking the SUV's horn and applauding everyone that comes out of the store with something to donate and put into the back of the SUV. The dogs' tails start wagging, volunteers begin cheering, and there are genuine smiles of gratitude all around. It is truly heart-warming for everyone involved."
Park Cities Pet Sitter is also accepting donations for Presents for Pets and Duck Team 6 through November 8th at 5831 McCommas Blvd. Donations can be accepted there Monday through Friday, between the hours of 10am to 4pm. Park Cities Pet Sitter clients may also leave donations for Duck Team 6 during any regularly scheduled pet sitting visit between now and the end of October.
For additional information about the "Stuff-the-SUV" event, "Presents 4 Pets" or donation drop-off, please contact Courtney Coleman at Courtney@pcpsi.com.
About Park Cities Pet Sitter: PCPSI has served the Dallas area 7 days a week, 365 days a year since 1992. Pet sitting, daily dog walks, pet taxis, overnight sitting, pet supply shopping, litter box cleaning and dog training are all part of the services PCPSI offers. Park Cities Pet Sitter is bonded and insured, and all sitters are employees--not independent contractors. A manager is on-call 24 hours a day to handle any emergencies. Additional information about Park Cities Pet Sitter can be found on their website at http://www.pcpsi.com.
About Duck Team 6: DT6 is an all-volunteer group that captures hard-to-catch dogs that have lived their lives as strays. They are not a shelter so they rely on fosters and other rescue organizations to assist them until they can find permanent homes for the dogs they capture. They also provide full veterinary care including spay/neuter, microchips and vaccinations for their "Duck Dogs." They have an excellent Community Outreach program that collects and delivers dog food and supplies each week to communities in need. Learn more at http://www.duckteam6.org.
About Sewell Infiniti of Dallas. Sewell Infiniti of Dallas is located at 7110 Lemmon Ave in Dallas, TX. To learn more about them, visit their website at http://infinitidallas.sewell.com/.