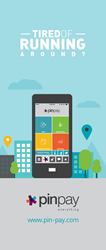 Pay anywhere, anyone, anytime...
(PRWEB) October 03, 2014
With the increased usage of smartphones and high-speed Internet on cell phones (3G, 4G), more mobile apps are created for banking, payments and shopping.
"The use of smartphones has increased remarkably in the last few years. More consumers are getting used to the benefits of the apps for mobile banking, billing services and money transfers," said Omar Bader, CEO of PinPay SAL.
The PinPay app, developed by PinPay SAL is the leading mobile payment service app in Lebanon that allows its customers to pay anywhere, anyone, anytime. It is licensed from the Central Bank of Lebanon and owned by some of the largest banks in Lebanon including Bank Audi and BankMed, and operated by an independent team of business and technology integration professionals. The PinPay app is applicable for IOS, Android and Windows operating systems. The app is linked to your bank account so whenever you pay for anything, you're actually paying directly from your bank account as if using a debit card.
With a global reach of 87%, mobile phones are in use almost everywhere. So with such widespread access to mobile technology, consumers can complete financial transactions without having to step into a bank.
That's where PinPay acts. PinPay was created for Lebanese and Middle Eastern banks to enter the consumer mass market "PinPay can offer them a low-cost channel to acquire new customers and scale-up efficiently," explained Joseph Azar, Project Manager for PinPay SAL. "This is why we hope most banks in Lebanon and the region will soon join the PinPay family," he added.
PinPay has endless benefits. Besides settling bills and sending money from user to user, PinPayers can recharge any prepaid mobile phone line. Unregistered users can also collect the sent amount at partner cash outlets. PinPay is used to request and pay park meter fines. In addition, customers can use PinPay to recharge their Cablevision accounts directly from their mobile phones. Last but not least, with PinPay, customers can now recharge all types of Internet accounts and make donations to SESOBEL, SOS Children's Villages, Children's Cancer Center of Lebanon (CCCL) and to Lebanese Association for Rehabilitation and Development Taaheel through their mobile phones.
In addition to the ability to recharge any prepaid mobile phone line whether local or international, customers using PinPay app can now refill online payment prepaid cards and fund Forex Trading accounts. PinPayers benefit from the numerous financial services offered by Credit Financier Invest (CFI). Furthermore, CashU clients can refill their account through PinPay to make shopping online safer.
PinPay's clients can subscribe to 5index to get access to Lebanon's biggest online business directory giving PinPayers a lead to success…
A family of PinPayers is being created with new banks, merchants and consumers who are gathering to meet in the palm of your hand.
In the end, PinPay provides a fully inclusive product from A to Z for any bank to be able to provide mobile banking and mobile bill payment, and that is why it should be the next downloaded app in your mobile.