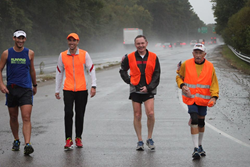 Tampa, FL (PRWEB) September 25, 2014
For nearly a year, Jim Shiew has run 12 miles a day with one goal: to raise awareness and funds for the nonprofit Special Operations Warrior Foundation.
A resident of Buena Vista, CO, Jim, 70, was solo when he set out in January, but not for long. He's been greeted and supported over the months by people and veterans' organizations offering him lodging, meals, encouragement, and donations for the Warrior Foundation.
After Army veteran and Green Beret Jimbo Blakeslee of Arkansas met Jim, he was so impressed, he signed on as his logistics manager, notifying cities and towns across the nation of Jim's mission and location as he made his way east; and generating media coverage.
In July, off-duty members of the Army's 5th Special Forces Group met up with Jim near Ft. Campbell, KY, and ran several miles with him. And as he nears his destination, running club members are signing up to accompany him via his Run America for Veterans Facebook page.
On the afternoon of Sept. 27, when Jim is a mile away from of the statue of King Neptune in Virginia Beach, VA – the endpoint of his run – he will be welcomed by local dignitaries and military and civilian residents, including special operations warriors and families the SOWF has aided in their time of need.
Jim expects to reach the statue by 2:30 p.m.
Created in 1980 and based in Tampa, the Special Operations Warrior Foundation has three programs:
College scholarships for the surviving children of U.S. Special Operations personnel from the Army, Navy, Air Force and Marine Corps
Wounded Special Operations Forces support, including immediate financial stipends of $3,000
Family services, including educational and family counseling and advocacy support