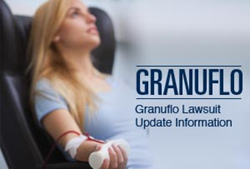 Wright & Schulte LLC, a law firm that guarantees the aggressive and personal representation you deserve. Contact Wright & Schulte LLC today for a FREE GranuFlo lawsuit evaluation by visiting yourlegalhelp.com or call 1-800-399-0795.
New York, NY (PRWEB) September 29, 2014
The litigation underway for GranuFlo/Naturalyte lawsuits in Massachusetts federal court for product liability claims filed after the 2012 GranuFlo and NaturaLyte dialysis drug recall has grown to include more than 2,000 GranuFlo lawsuits, Wright & Schulte LLC reports. According to a new Case List issued by the U.S. Judicial Panel on Multidistrict Litigation,at least 2,028 dialysis medication complaints have been filed on behalf of patients who were allegedly injured by GranuFlo or NaturaLyte in the U.S. District Court, District of Massachusetts. (In re Fresenius GranuFlo/Naturalyte Dialysate Litigation, MDL No. 2428)
[fda.gov/medicaldevices/safety/listofrecalls/ucm309990.htm, March 29, 2013]
According to court documents, the establishment of the GranuFlo/Naturalyte lawsuits multidistrict litigation followed the 2012 GranuFlo and NaturaLyte recall, which was issued by Fresenius Medical Care after the two dialysis concentrates were linked to serious cardiovascular events in dialysis patients, including heart attacks, strokes and sudden cardiac death. In March of that year, Fresenius reported the life-threatening risks associated with GranuFlo and NaturaLyte in an Urgent Product Notification that it sent to dialysis clinics throughout the country. By June 2012, the U.S. Food & Drug Administration (FDA) had determined that the danger posed by GranuFlo and NaturaLyte was serious enough to warrant its most urgent safety warning, and Fresenius' March Notification was given Class I recall status.
[fda.gov/MedicalDevices/Safety/ListofRecalls/ucm309990.htm, FDA, March 29, 2013]
According to court records, plaintiffs in GranuFlo and NaturaLyte lawsuits claim that the administration of the products during dialysis caused a number of catastrophic cardiovascular events, including:

Heart Attack
Stroke
Cardiopulmonary Arrest
Dangerously Low Blood Pressure
Sudden Cardiac Death
Plaintiffs further allege that Fresenius Medical Care had been investigating the heart problems associated with the two products long before they were recalled. Among other the things, the complaints point out the company issued a memo to its own dialysis clinics in November 2011, warning doctors to adjust the dosage of GranuFlo to avoid an excessive buildup of bicarbonate in the blood called metabolic alkalosis, which can cause life-threatening heart issues in dialysis patients. Plaintiffs assert that this memo is evidence that Fresenius failed to provide a timely warning to doctors and patients about the risks associated with GranuFlo and NaturaLyte.
Dialysis patients or their surviving family members may be eligible to file a GranuFlo/Naturalyte lawsuits if they suffered a sudden, serious heart problem during or after a dialysis treatment that involved the administration of GranuFlo or NaturaLyte. Wright & Schulte LLC is offering free legal consultations to anyone interested in filing a GranuFlo recall claim. To learn more, or to arrange for a free legal consultation, please visit yourlegalhelp.com.
About Wright & Schulte LLC
Wright & Schulte LLC, an experienced personal injury firm, is dedicated to the belief that America's legal system should work for the people. Every day, the attorneys of Wright & Schulte LLC stand up for the rights of people who have been injured or wronged and fight tirelessly to ensure that even the world's most powerful corporations take responsibility for their actions. If you're looking for a law firm that will guarantee the aggressive and personal representation you deserve, please do not hesitate to contact Wright & Schulte LLC today. Free GranuFlo lawsuit case evaluations are available through yourlegalhelp.com or by calling 1-800-399-0795.
Contact:
Wright & Schulte LLC
812 East National Road
Vandalia, Ohio 45377
1-800-399-0795
http://www.yourlegalhelp.com
Like us on Facebook
Follow us on Twitter
Join us on Google+