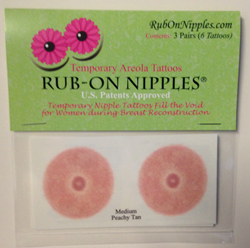 Rub-On Nipples® are temporary areola tattoos that empower women with bare mounds during breast reconstruction. Our Breast Healing Affiliate Program will increase awareness of this life-changing product while offering financial incentives to participants.
Maywood, NJ (PRWEB) September 29, 2014
EV Endeavors, LLC (DBA BreastHealing.com), the company that invented temporary areola tattoos for post-mastectomy women, has announced the launch of an affiliate program for their patented product — Rub-On Nipples®.
"We hope to expand the reach of our product through our Affiliate Program," said Elizabeth Vivenzio, President of BreastHealing.com and inventor of the product. "We invite those working with post-mastectomy women to join our mission of empowerment."
Affiliate Program to Increase Awareness
The Breast Healing Affiliate Program will empower more women with product knowledge while rewarding participants with commissions for sales that are referred from banner ads on their web sites. The financial incentives are expected to be embraced by breast cancer groups to add a stream of income to their resources.
Significance of Non-Surgical Areola Options
Rub-On Nipples® are a life-changing product for those going through breast reconstruction after breast cancer or preventive mastectomy. The newly-advanced 3-D techniques of both permanent and temporary areola/nipple tattoos look so realistic that some women decide to forgo two invasive surgeries previously considered standard practice during breast reconstruction. The traditional nipple-areola reconstruction (NAR) is a two-step process to create a nipple nub and replicate an areola.
In the past, surgeons would harvest a piece of cartilage from the ear to create the nub. Skin-flap procedures have simplified the nipple creation process whereby the surgeon frees up a section of skin atop the reconstructed mound, swirls it into a nub, and then sutures it into a protrusion. Surgery to replicate the areola involves grafting harvested skin from the groin, stomach or elsewhere so that the areolar skin differs from the skin on the breast mound.
The Illusion of Protrusion
The 3-D effect for this areola/nipple recreation has been aptly coined the "illusion of protrusion" by experts in the field. Advanced techniques required for optimal 3-D results (similar to those of the temporary areola tattoos), require skills in shadowing, highlighting, feathering, and contouring. Color selection is critical to good outcomes as well, so color blending with pigment hues is essential.
One-dimensional tattooing can look freakish and result in what the industry calls the "bulls-eye" effect." With an artist skilled in 3-D techniques the results are very realistic. This is why the online message boards are buzzing with name requests for artists skilled in the 3-D techniques that are crucial for those who have decided to nix the skin grafting and nipple nub.
Temporary Tattoos Ease Decision–Making and Transition Time
With the temporary tattoos, sold under the name Rub-On Nipples®, women now have a tool to make the permanent areola/tattoo decision easier. Rub-On Nipples® last one to two weeks and are easily removed with rubbing alcohol. They replicate permanent 3-D areola/nipple tattoos and help women visualize how they would look.
Rub-On Nipples® also fill the void for those with bare mounds who are not yet candidates for a permanent procedure, a delay that can last for years when breast revisions are needed. This is because the size and shape of the breast mound must be finalized before placement of an areola/nipple tattoo can be accurately determined. The temporary nipple tattoos provide a life-changing interim solution for women in this situation.
For more information, visit RubOnNipples.com
Contact: Elizabeth Vivenzio (breasthealing(at)gmail(dot)com)
About the inventor and her company:
EV Endeavors, LLC, (DBA BreastHealing.com) is a New Jersey company dedicated to ventures that encompass elements of the healing process after mastectomy. Following her mastectomy in 2009, Founder Elizabeth Vivenzio, a medical writer for over 30 years, knew she could help other women following in her path by sharing the knowledge she had garnered. Her unique perspectives lead her to the purpose of conveying the message of mastectomy empowerment.
EV Endeavors publishes educational/motivational topics that espouse proactive preparation for mastectomy and offers self-care tips for optimal post-op healing. The web site offers a knowledge base for the crowning glory of breast reconstruction…areola/nipple tattoos. The site offers a base of knowledge for this defining last step.