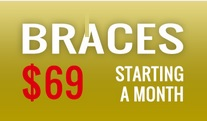 Braces for all Ages!
Las Vegas, Nevada (PRWEB) September 26, 2014
Braces are designed to correct a number of issues, including underbites, overbites, and misalignment of one or more teeth. A representative of Smiles Today Dental had the following to say, "The primary goal of any style of braces is to correct spatial issues of the teeth to restore a proper bite. During this process, we are also able to achieve a secondary goal of creating a more pleasing alignment of the teeth for aesthetic reasons."
Dental technology in the field of orthodontics has advanced to a point where adults can now benefit from teeth-straightening procedures to the same degree as that which children have been able to enjoy. Today's styles of braces are more numerous than ever, offering affordable options for every type of budget.
Smiles Today Dental provides braces that are reasonably priced, giving patients an opportunity to restore the natural beauty of their smiles. Interested individuals are invited to contact the office during normal business hours for a consultation.
About Smiles Today Dental
A professional dentistry office in Las Vegas, Nevada, Smiles Today Dental provides a comprehensive array of dental procedures and treatments to area residents. The facility is focused on the provision of quality services provided by industry-trained professionals in a comfortable environment staffed by friendly associates. Open seven days a week, this dental practice provides free roundtrip transportation for patients in need of dental examinations, cleanings, braces, restorations, cosmetic procedures, and more.
Smiles Today Dental
Las Vegas Dentistry Professionals
1580 East Desert Inn Road
Las Vegas, NV 89169
702.655.6777
smilestodaydental.com
###