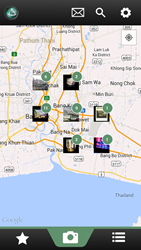 pin photos on the world map
(PRWEB) September 29, 2014
http://youtu.be/X4EF9E_VMlcc The mobile application is designed to send a photo from user's phone (camera or gallery) along with location data to the back end system where placed on the world map (Google), so that all application users can see the photos pined at their location.
The users of the application as well the visitors of the website can browse photos on the world map, zoom in and out, enlarge selected photos, look for the exact location of each and visit the public Facebook page of the photographer. In this way PhotoSextant is integrated to the Facebook network allowing users to not only to view photos linked to a certain region of the world but to have an even better knowledge about the social life of the people in the area.
PhotoSextant and Facebook location tags
The PhotoSextant is a Facebook application and as such is allowed to access the public data of users who have registered  to it.
The PhotoSextant users can select and "sync" automatically photos with location tags  from their Facebook account on the world map at the right place,.
In this way, the selected photos of a user can be viewed not only by his friends, but by all PhotoSextant users, placed at the right position on the world map.
This is definitely a new way of browsing the world map that gives a new dimension in displaying photos posted to Facebook.