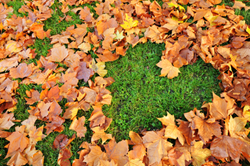 "This is the perfect time for homeowners to plant and/or patch up their lawns with grass seed as there is somewhat less weed pressure in the lawns due to the warm days and cooler nights," says Patricia Mosley, Director of Marketing.
Kennewick, WA (PRWEB) September 29, 2014
As many homeowners know, fall is no time to rest on one's laurels. During this time of year it is important to take advantage of the cooling weather to patch the lawn, plant grass seed, and engage in a little weed prevention. Senske Services says this is the time to prepare for both winter and spring.
Senske Services advises homeowners to make preparations for growing a new lawn during the fall. But to grow a new lawn, the soil needs to be moist in order for grass seeds to germinate. There are three ways to plant new grass: seeding, laying down sod, and hydro-seeding. Regardless of the method chosen homeowners need to make a smooth seed bed and drain the water away from the home.
Believe it or not fall is also a great time to control broadleaf weeds, such as dandelions. In fact, if they are controlled in the fall, they will not bloom and take over the yard in the spring. "Timing is critical when preparing your lawn for both the winter and spring. Early fall is one of the best times of the year to make lasting changes in the care of lawns and shrubs," says Mosley.
This is also a good time for people with irrigation systems to begin scheduling their sprinkler blowouts in preparation for colder weather. These systems are among the more expensive aspects of a lawn, so it is important to have a blowout done properly. Some homeowners take care of it themselves, but a professional lawn care service is more likely to do the job right the first time and save the customer time. In addition, most professional companies dispose of excess materials in a safe manner and guarantee their work.
Overall, fall is a great time of year to take care of the yard work that may have been neglected during the summer. Senske Services is offering a fall lawn special for a full lawn care service program, starting at $39.95 per treatment, for customers in its service area. It is also scheduling sprinkler blowouts for $59.95 up to 8 stations. Find out more by calling Senske Services at (877) 944-4007.
About Senske Services:
Senske Services, Inc. is a leading lawn, tree and pest control service provider that is locally owned and operated, with its corporate office based in Kennewick, Washington. It has been a trusted source of lawn, tree and pest control services since 1947 across Eastern Washington, Idaho, and Utah, as well as pest control in Las Vegas, Nevada. To see what Senske Services can do for you, visit http://www.senske.com.