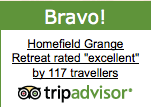 Can't praise it highly enough
Northamptonshire, London (PRWEB UK) 13 October 2014
Rated 4.5 Stars or more out of 5 by our guests for Sleep Quality, Location, Rooms, Service, Value and Cleanliness we are very proud of our achievements.
"I have always been passionate about helping clients attain their goals of looking and feeling great, which needs to begin from the inside out. I truly believe that health is our most valuable commodity; something which we often take for granted" Says Suzanne Peck, Director of Homefield Grange. Qualified in Naturopathy and Nutrition, Suzanne helped create Homefield Grange as a permanent, dedicated wellness retreat in 2006 with the desire to help clients find the time and space to focus on their diet and lifestyle away from a challenging world.
"The TripAdvisor system works very well and provides us as an organization with valuable feedback from our guests and that enables us to keep on improving the services we offer. And of course it enables us to spread the word to potential guests via our website too," says Billie Sharp from the Marketing department of Homefield Grange.
Company Information:
Homefield Grange is a dedicated, established and permanent detox retreat and wellness spa open 51 weeks of the year, assisting clients making positive changes towards their health and well-being. This caring team of qualified practitioners will provide all the help you would expect from a professional organization.
You can stay at Homefield Grange for 3, 5 or 7 days in their set packages, or alternatively you can tailor your stay for a longer period of time by contacting them directly. The Detoxification process is more beneficial the longer you do it for and with many optional extras to choose from a stay can be as relaxing or energetic as you would like it to be.
For more information about Homefield Grange you can visit http://www.homefieldgrange.co.uk or call 01536 712219.