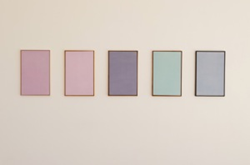 Sworn's art becomes a medium for the expression of natural processes – vibrant matter.
Düsseldorf, Germany (PRWEB) September 29, 2014
The work by Corin Sworn presented at the new solo show titled "Vibrant Matter" at Düsseldorf's Langen Foundation (September 29, 2014 – February 22, 2015) is a result of the artist's extensive research at the archives of the Herbarium of Scotland's Royal Botanical Gardens, especially the natural dying properties of plants.
The exhibit's central body of work is a sequence of monochrome silk dyes created from extracts of plants like goldenrod or onion. The colors' varied spectrum and wide range is driven by constant change that is an inherent quality of nature rather than by artistic control. In this way, her art becomes a medium for the expression of natural processes – vibrant matter -- hence the title. A selection of the plants used in Sworn's work accompanies the exhibit – either displayed as dried specimens or as digital photographs.
Two works in the exhibition are a stark contrast to the artist's focus on nature's processes, as they refer to the production of a synthetic drug, e.g., the digital print "An Abandoned Crystal Meth Lab."
Düsseldorf's tourism office is offering hotel and city specials for many of the city's art events throughout 2014, including "Vibrant Matter." The package, called "Düsseldorf à la Card," can be booked right from the tourism office's website at https://www.duesseldorf-tourismus.de/en/hotel-packages/duesseldorf-a-la-card/. Prices start at €49 per night per person based on double-occupancy for a 2-3-star hotel in the city center and at €95 per person for a 4-star hotel. The package includes breakfast, one DüsseldorfCard (free public transportation within city limits plus 30 free or reduced admissions to city attractions), and a city information package. Please check the website for current information.
For more information on the exhibit, please visit http://www.langenfoundation.de.
For more information about Düsseldorf, please visit: http://www.visitduesseldorf.de.
# # #
Düsseldorf Marketing & Tourism GmbH is the visitors and convention bureau of the city of Düsseldorf. Its responsibilities include tourism and city marketing, as well as conference and meeting marketing, hotel reservation services, fairs and convention services, city event ticket sales and advance ticket reservations. For more information, visit http://www.visitduesseldorf.de.
Düsseldorf Airport, Germany's Next Generation HubTM, offers several non-stop flights from US & Canadian cities (Atlanta, Chicago, Ft. Myers, Los Angeles, Miami, New York, Newark, Toronto), as well as convenient connections to many European cities. For more information about the airport, visit http://www.dus.com.