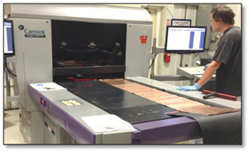 The exceptional performance of this capital equipment brings our fine line Maxi-flex® and fine line capability to a new level, it demonstrates our commitment to fulfill the increasingly fine line, extended length requirements for applications primarily in
Minnesota (PRWEB) October 01, 2014
All Flex Flexible Circuits, LLC, manufacturer of flexible printed circuits and heaters, announces an expansion of the headquarters facility in Northfield, MN. The company will break ground within weeks adding on nearly 30% capacity to accommodate new capital equipment and infrastructure improvements.
All Flex has been manufacturing flexible circuits for nearly a quarter of a century and added flexible polyimide and silicone rubber heater circuits to their product line in 2008. All Flex also provides comprehensive surface mount and thru hole component assembly services.
The additional square footage will accommodate a new Dragon HDI/PX Camtek Automated Optical Inspection (AOI) machine that allows All Flex to further enhance its niche Maxi-flex® capability (circuits >24" long). This AOI has the latest optics technology to rapidly scan 3 mil line\space and detect fine defects in flexible circuits up to 80 inches long.
V.P. of Sales, Dave Becker, says the new AOI will give the company an advantage in growing markets, "The exceptional performance of this capital equipment brings our fine line Maxi-flex® and fine line capability to a new level, it demonstrates our commitment to fulfill the increasingly fine line, extended length requirements for applications primarily in the medical and aerospace industries."
In addition, All Flex added two dedicated heater process areas to the other building on the Northfield campus. This 5,000 square foot building purchased in 2013, now houses thick film heater and silicone rubber heater operations. Thick film heaters are made with glass-like materials that can withstand very hot temperatures. These heaters are a new capability All Flex developed and are printed directly on the surface to be heated.
The silicone rubber heater processing area was transitioned from the Bloomington, MN facility to keep pace with the growing demand for this product. Silicone rubber heater circuits can be highly customized to manage the overall thermal requirements in electronic devices and regulate temperature in cold environments.
According to Operations Manager, Gary Ryan, the 28% footprint increase will allow for additional capacity and improved management of manufacturing constraints. "The upgrades will greatly increase our ability to produce high quality, high volume complex parts that are increasingly becoming more challenging in design. We are responding to the industry demand and are prepared for future growth."
About All Flex
All Flex is a privately held company that manufactures quick-turn to high volume production runs of flexible circuits and flexible heaters with component assembly. All Flex flexible circuits are commonly used in the medical, military, aerospace, automotive, instrumentation, and various industrial markets. All Flex is headquartered in Northfield, MN with a third manufacturing facility 35 miles north in Bloomington, MN. The company is: AS9100C\ISO 9001:2008 Certified, MIL-P-50884E Qualified, UL Recognized, ITAR/JCP Registered and is an active IPC Member.