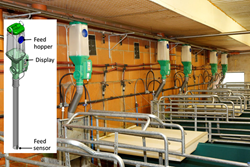 The new Mannebeck Smart System Feeders and Controls from PigTek represent a huge step forward in individualized sow care.
Milford, IN (PRWEB) September 30, 2014
PigTek Pig Equipment Group introduces new MANNEBECK® Electronic Feeders and Controls for individualized sow care in group housing. The new products include the IntelliTek™ Gestation Feeder and FaroTek™ Farrowing Feeder, as well as the TouchTek™ Control and M-Touch™ Portable Control for managing the electronic feeders.
The feeders and controls use individualized feed curves and advanced technology to help farmers track sows from gestation through farrowing, maintain or improve sow body condition, and optimize piglet weaning weights, according to Dieter Mannebeck, Managing Director for PigTek's European group.
"The new MANNEBECK SMART™ System Feeders and Controls from PigTek represent a huge step forward in individualized sow care," he noted. "The next-generation technology in these SMART Systems is exactly what pig farmers need to efficiently manage their farms and thrive in today's competitive marketplace."
INTELLITEK™ Gestation Feeder
The INTELLITEK Gestation Feeder consists of feeding stations, computer controls and remote management capabilities for feeding individual sows managed in static groups in a group housing environment. Each feeding system communicates with the included TOUCHTEK Control to serve approximately 60 sows. Farmers can link up to four INTELLITEK Gestation Feeding Stations to the TOUCHTEK Control to serve a total of approximately 240 sows in one static group.
FAROTEK™ Farrowing Feeder
The FAROTEK Farrowing Feeder enables sows after farrowing to eat multiple times throughout the day. This helps the sows to increase their feed intake and maximize milk production for producing more uniform piglets and reducing body weight loss. To activate the feeder to dispense feed, a sow simply touches her nose to a sensor located at the top of the feed trough. Sows are fed according to individualized feed curves which can be easily adapted to each sow's needs. The FAROTEK Feeder also comes standard with the TOUCHTEK Control. Each control can manage up to 64 FAROTEK Feeders.
Feeder Controls
The innovative TOUCHTEK Control included with both the INTELLITEK and FAROTEK Feeders offers a color touch-screen display right at the pen that provides easy access to important information about the animals in the pen. It can operate as a stand-alone device, or it can be connected to a network with other TOUCHTEK Controls to oversee all sows on a farm. When the controllers are connected to a computer network, farmers may monitor, analyze and store individual sow feeding data on a personal computer.
PigTek also offers an optional M-TOUCH Portable Control for communicating with both INTELLITEK and FAROTEK Feeders. This wireless hand-held device provides easy in-pen sow identification and allows farmers to fine-tune individual sow feed curves. The M-TOUCH Control features a color touch-screen display and an Android operating system that uses Bluetooth® technology to connect with the feeders.
About PigTek
PigTek Pig Equipment Group(http://www.pigtekamericas.com) is a part of the CTB, Inc. family of companies. Based in Milford, Indiana (U.S.A.), CTB, Inc. (http://www.ctbinc.com) is a leading global designer, manufacturer and marketer of systems and solutions for producing grain, poultry, pigs and eggs; and for processing poultry. Its products and services are "Helping to Feed a Hungry World®" through grain storage, handling, conditioning and drying; through improved efficiency and air quality management in the care of poultry and livestock; and through efficient and high yield poultry processing. CTB also produces premium equine stables and makes equipment for various industrial applications. Founded in 1952, CTB has been dedicated to "Leadership Through Innovation®" throughout its history. The company operates from multiple locations in various countries around the world and serves its customers through a worldwide network of independent dealers and distributors.
PigTek Pig Equipment Group, 401 East Syracuse Street, P.O. Box 2000, Milford, Indiana, 46542-2000; Telephone: 574-658-5000; Fax: 574-658-5325; E-mail: info@pigtek.net; Internet: http://www.pigtekamericas.com
© 2014 CTB, Inc.
Bluetooth is not owned or licensed by CTB and is the sole property of its respective owner. All other trademarks and registered trademarks included in this release are the intellectual property of CTB, Inc. and/or its affiliates.