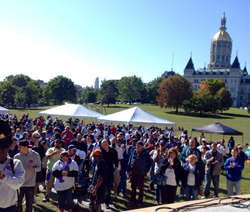 Just by attending, everyone at the walk proclaims the message of hope to the person new in recovery that 'if all these people can recover, so can I', said Philip Valentine, Executive Director of CCAR.
Hartford, CT (PRWEB) September 30, 2014
The Connecticut Community for Addiction Recovery (CCAR) proudly hosted its 15th annual "Recovery Walks!" on September 19, 2014 from 10:00 AM – 2:00 PM in Bushnell Park in Hartford. Participants from across the state of Connecticut gathered together to show their support for recovery from alcohol and other drug addiction in front of Connecticut's state capitol. CCAR is proud to announce that this year's attendees in recovery celebrated a total of 3,108 cumulative years of recovery!
"Recovery Walks!" is a true celebration for the recovery community – those in recovery from addiction to alcohol and other drugs, as well as their family members, friends, and supports. In addition to walking across the state capitol, participants shared stories of hope and redemption due to recovery. The event hosted live music by Shaded Soul, activities for children, exhibits, arts and crafts, and food.
"Recovery Walks!" was held during the 25th annual National Alcohol and Drug Addiction Recovery Month in September. It was one of the many nationwide "Rally for Recovery" events scheduled for September. These events offered the opportunity for those in recovery to register to vote, speak with elected officials, and celebrate their growing visibility.
To view pictures from this year's "Recovery Walks," check out CCAR's Facebook page at: https://www.facebook.com/pages/Connecticut-Community-for-Addiction-Recovery-CCAR/214943900642?ref=hl and also use #CTRecoveryWalks.
Since 1998 the Connecticut Community for Addiction Recovery (CCAR) has organized the recovery community (people in recovery, family members, friends and allies) to put a face on recovery and to provide recovery support services to help sustain recovery. By promoting recovery from alcohol and other drug addiction through advocacy, education and service, CCAR strives to end discrimination surrounding addiction and recovery, open new doors and remove barriers to recovery, maintain and sustain recovery regardless of the pathway, all the while ensuring that all people in recovery, and people seeking recovery, are treated with dignity and respect. CCAR envisions a world where the power, hope and healing of recovery from alcohol and other drug addiction is thoroughly understood and embraced. For more information, visit http://www.ccar.us.