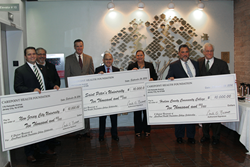 Hudson County, NJ (PRWEB) September 30, 2014
The CarePoint Health Foundation is pleased to announce that it has awarded three Hudson County institutions of higher education $10,000 each to assist financially challenged residents of Hudson County to pursue an education in health care. A presentation ceremony was held on Friday, September 26, 2014, at 10:00 AM, in the main lobby of Christ Hospital. The scholarship checks were presented to Saint Peter's University, Hudson County Community College and New Jersey City University. Two students at each institution will be the recipients of a $5,000 scholarship check. Dr. Eugene J. Cornacchia, President of Saint Peter's University, Dr. Glen Gabert, President of Hudson County Community College, and Daniel P. Elwell, Vice President of University Advancement of New Jersey City University were on hand to accept the scholarships funds from Paula A. Nevoso, Vice President of CarePoint Health Foundation, Daniel Altilio, Board Member of CarePoint Health Foundation, and Dennis Kelly, Chief Strategic Officer of CarePoint Health.
The CarePoint Health Foundation, Inc., is a not-for-profit 501(c)(3) organization serving Hudson County, New Jersey. The mission of the CarePoint Health Foundation is to strengthen access to care for uninsured and underinsured members of the Hudson County community. The Foundation generates charitable dollars and makes strategic grants to support programs and services that advance its mission of improving access to health, wellness, health education and future health professionals' education services for residents of Hudson County, New Jersey. The Foundation envisions a community where all residents can easily access the health and wellness services they need. The Foundation will be a leader in this effort by building strategic relationships with community agencies and providers to enhance and expand programs that effectively educate consumers and eliminate barriers to essential care.
The presentation ceremony was held:
Friday, September 26, 2014
10:00 AM
CarePoint Health - Christ Hospital (Main Lobby)
176 Palisade Avenue, Jersey City, New Jersey
For additional information, please call the CarePoint Health Foundation at 201-795-8000.
For media inquires, contact:
Allyson Miller
CarePoint Health
Vice President of Marketing and Public Relations
Phone: 201-858-5297
Fax: 973-646-5563
Email: AMiller(at)bayonnemedicalcenter(dot)org
About CarePoint Health
CarePoint Health brings quality, patient-focused health care to Hudson County. Combining the resources of three area hospitals - Bayonne Medical Center, Christ Hospital in Jersey City, and Hoboken University Medical Center - CarePoint Health provides a new approach to deliver health care that puts the patient front and center. We leverage a network of top doctors, nurses and other medical professionals whose expertise and attentiveness work together to provide complete coordination of care, from the doctor's office to the hospital to the home. Patients benefit from the expertise and capabilities of a broad network of leading specialists and specialized technology. And at CarePoint Health, all of our medical professionals emphasize preventive medicine and focus on educating patients to make healthy life choices. For more information on our facilities, partners and services, visit our website, http://www.carepointhealth.org.