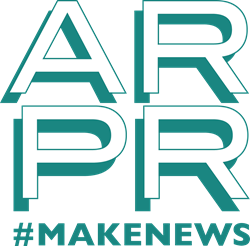 At the start of 2014, we set lofty goals for our agency – both in terms of revenue and client satisfaction. I'm proud that we're not only meeting our growth expectations – but exceeding them.
ATLANTA (PRWEB) September 30, 2014
Today, technology public relations and integrated marketing firm AR|PR announces the addition of 13 new technology accounts to its client roster over the past six months. Since launching just over two years ago, AR|PR has grown its client base by 700 percent, secured more than 200 million media impressions and grown social media channels by double and triple digits on behalf of clients. The firm has also become noted for its ability to land emerging technology in high-profile media outlets, including in Forbes, CNN, Fast Company, The TODAY Show, Mashable and Wall Street Journal.
AR|PR's new clients range from early-stage cyber security companies to national healthIT leaders to mobility startups. They include:
Healthcare Information Technology

Nuance Communications, Inc.– A global leader in creating speech and language solutions that drive smart, efficient decisions for businesses, consumers and healthcare organizations around the world.
RazorInsights – A leading provider of healthcare information technology solutions for rural, critical access and community hospitals.
Cyber Security

NexDefense – An Atlanta-based cyber security company for automation and control system operators in critical infrastructure and defense facilities.
Software-as-a-Service

Attentive.ly – A customer behavior platform for modern marketing teams. The award-winning company helps brands predict how customers will behave from social data.
Invoiceware International – As the largest Latin America business network, Invoiceware provides enterprise solutions that reduce the cost and complexity of doing business in Latin America.
Mobility

KidsLink – Launched by Atlanta parents, KidsLink is a mobile app that allows moms to safely and privately connect, collect and manage their most important job - motherhood.
MobileQubes – A New-Orleans based startup launching a network of self-automated kiosks that allow customers to rent and return compact battery "Qubes" to continue charging and using their devices on-the-go.
In addition to new clients, the agency is celebrating the renewal of multiple current client contracts, including popular e-commerce site, Country Club Prep, and mobile fitness leader, Fitnet.
To service the agency's growing client base, AR|PR recently welcomed Evan Goldberg as director of the firm's Atlanta office. With agency, in-house and entrepreneurial experiences, Evan has a unique understanding of the technology ecosystem and how dynamic PR and content marketing can propel brands. In addition, Renee Spurlin joins the team as senior strategist where she provides counsel to AR|PR clients. Renee is the immediate past president of the Atlanta chapter of the American Marketing Association and has directed award-winning PR and digital marketing campaigns over 10 years for brands both large and small.
In addition, tech marketer Caroline Cassidy joins the Atlanta-based team as senior account manager, and Madeline Elliot joins the New Orleans office as account coordinator. Jennifer Blackburn was promoted to senior account manager alongside Colleen Pinto who was promoted to account manager.
"At the start of 2014, we set lofty goals for our agency – both in terms of revenue and client satisfaction," said Anna Ruth Williams, founder and CEO of AR|PR. "I'm proud that we're not only meeting our growth expectations – but exceeding them – by providing nimble, strategic and measureable integrated communications campaigns."
To learn more about AR|PR's current client roster and services, please visit http://www.arpr.co.
About AR|PR
Established in 2012, AR|PR is the go-to public relations firm for the Southeast's most cutting-edge technology companies. With offices in Atlanta and New Orleans, AR|PR's technology clients represent multiple industry sectors, including mobile, SaaS, healthIT and cyber security. From corporate messaging to social media to media relations, AR|PR has a proven record of reaching audiences and building brands. For more information on the award-winning agency, visit the company in Atlanta Tech Village and LaunchPad, and online at arpr.co and @AR__PR.