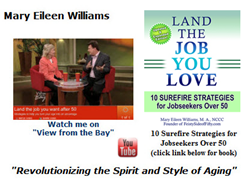 We redesigned our Encore Career Workshop to be inspiring and serve as a nuts-and-bolts guide for people looking ahead to retirement.
San Francisco, CA (PRWEB) October 01, 2014
Coming of Age: Bay Area strengthens its commitment to address the challenges people 50+ face in following their passion with the return of its Encore Career Workshop. Guided by the core principals of the acclaimed "Encore Career Handbook" by Marci Alboher, this new six-hour workshop helps participants clarify their aspirations, identify steps and overcome hurdles as they make their way toward encore careers. The workshop will be co-facilitated by Luanne Mullin, Chair of The Transition Network, SF and Eileen Williams, author of "Land The Job You Love."
"We redesigned our Encore Career Workshop to be inspiring and serve as a nuts-and-bolts guide for people looking ahead to reinventing their career options," said Eric Nelson, Coming of Age:Bay Area Talent Coach. "In the recently published Encore.org survey, 82 percent of Americans that identified themselves as seeking encore careers haven't identified – except in the broadest terms – what they'd love to do, and haven't started planning for that future."
That 2014 Encore.org survey revealed boomers' broad impetus towards public service and – nationwide – a considerable drop in the perception of earned income as a barrier to following an encore path. Fifty-five percent of all Americans agree that "putting skills and expertise to use in some fashion to help others" is an important part of how they view an encore career. Only 12 percent said they were worried about earning enough income, a decline from the 30 percent that stated the same concern when the Encore.org survey was last conducted in 2011.
"Our Bay Area members strongly identify with the survey's bent toward public service," said Nelson, "though their income concerns differ perhaps due to the Bay Area's high cost of living. Participants in our last Encore Career Workshop expressed their very clear need for continued income as integral to achieving their encore passion."
The Encore Career Workshop will be held from 10 a.m. to 4 p.m. Saturday, Oct. 18. The $59 fee includes lunch, a copy of "Land The Job You Love" and all workshop materials. Workshop exercises will lead participants through the facets of career transition. They'll become familiar with websites and other resources that'll help them pin down encore career opportunities and be introduced to networking and other real-world skills for landing an encore career.
"The workshop offers people 50+ the opportunity to plan their transition," said Luanne Mullin, Encore Career Workshop facilitator. "We priced the workshop as low as possible to encourage boomers to begin the journey toward work that's truly fulfilling."
About Encore.org
Encore.org is a national nonprofit that promotes the idea that people in their second acts have the talent and experience to solve some of society's greatest problems.
About the company:
Coming of Age: Bay Area celebrates the ability of all people age 50+ to continue to grow, transform their communities, and become a force for public good. The organization offers volunteer opportunities, workshops, educational events and one-on-one coaching. It is sponsored by Northern California Presbyterian Homes and Services (NCPHS) with additional funding provided by the Corporation for National & Community Service/RSVP Grant, other community grants and in partnership with KQED. For more information, please visit http://www.ComingofAge.org/BayArea or http://www.Facebook.com/ComingofAgeBayArea.