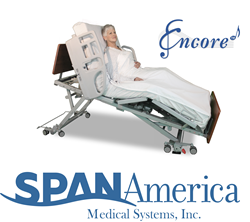 "We have engineered the Encore with additional technology recognizing the crucial role positioning plays in delivering the best in quality long term care."
Greenville, SC (PRWEB) September 30, 2014
Changes in care delivery, including the rise of ACOs (Accountable Care Organizations), are putting pressure on long term care providers to place ever-larger emphasis on quality, outcomes, and reductions in readmissions.
Related to this, providers are being asked to care for residents who have an increasingly higher level of need. And they are expected to do this while facing a vexing array of staffing, training, and worker's compensation challenges.
All of these factors are driving a demand for more sophisticated, feature-laden healthcare beds with advanced patient positioning and safety which, until now, have been more likely to be found in beds designed for subacute or acute care.
Rob Bentley, Span-America Marketing Manager for Beds and Furniture says, "Our research and design team has confronted these challenge head-on with our new Encore(TM) bed. We have engineered the Encore with additional technology recognizing the crucial role positioning plays in delivering the best in quality long term care.
Leading Encore features include:

GlideAlign(TM) Retractable Deck Technology, a system that retracts the sleep surface as much as 12 inches during head of bed elevation, to markedly reduce shear-induced trauma to the skin as well as the need for resident repositioning by a caregiver. During the head of bed (HOB) articulations, the Encore deck glides either toward the head of bed or towards the foot end. The deck moves so the resident doesn't have to, protecting fragile skin beneath the resident's weight from friction with the sheets. As the HOB rises, the gliding deck also keeps the resident in safer vertical alignment with bedside objects such as beverages, correspondence and cell phones – reducing the possibility of imbalance, falling or side-rail entanglement. Bending and lifting motions associated with resident repositioning expose the caregiver to the risk of joining the statistically high percentage of nursing staff that develop debilitating work-related injuries. By minimizing the need for repositioning, GlideAlign Retractable Deck Technology protects the caregiver and becomes a winning strategy for resident care facilities.
Smart Stop(TM) low-position auto-pause, a safety feature which ensures that the resident will not try to egress the bed from a dangerously too-low level by automatically stopping descent 12 inches from the floor. This reduces the risk of falling and minimizes the threat of injury-producing emergencies for the caregiver who can override the auto-pause when necessary via the footboard-mounted bed controller.
ReadyWide(TM) integrated expansion, an ergonomic feature which widens the deck to 39 or 42 inches simply and tool-lessly, facilitating easier and safer activities of daily living such as bathing.
Resident safety and the protection of fragile skin and deep tissues are familiar territory to the specialists and engineers at Span-America. With a more than 30 year history in pressure management solutions, the company has developed a comprehensive product series, which is pervasive in long term care. This includes such industry standards as the PressureGuard(R) surface series with models recommended for prevention and treatment of pressure ulcers – through to the most severe, Stage IV.
To provide clinicians with a 'hands-on' experience with the Encore's features, Span-America has provided an interactive, 3D portal site, where a virtual 3D Encore™ bed can be operated and manipulated through clinical positions including Trendelenburg, Reverse Trendelenburg and Comfort Chair. An interactive bed configurator portal enables selection of bed models and options for all beds in the company's line-up.
About Span-America Medical Systems, Inc.
Span-America manufactures and markets a comprehensive selection of pressure management products, beds and furniture for the medical market, including, Geo-Mattress(R), Geo-Matt(R), Isch-Dish(R) wound care seating products, Span+Aids(R) postitioners and Selan(R) products for skin care. The company also supplies custom foam and packaging products to the consumer and industrial markets. Span-America's stock is traded on The NASDAQ Stock Market's National Market under the symbol "SPAN".